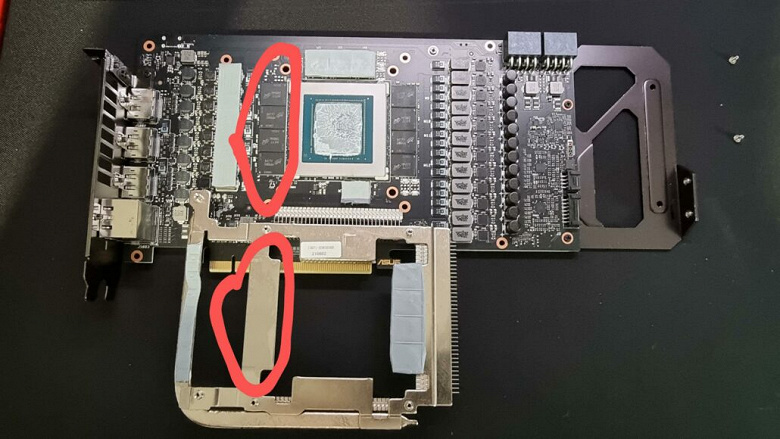 Nvidia GeForce RTX 3080 and RTX 3090 graphics cards are subject to severe heat, especially memory chips. Therefore, thermal pads are an indispensable attribute of the cooling subsystem for them. The same as the fans. However, for some reason, it is with thermal pads and their installation at the factory that funny (and sometimes sad) stories are associated. Fresh in my memory is the August case, when a GeForce RTX 3090 user found a fingertip instead of a thermal pad , and in the situation that the source has just told about, there was no thermal interface at all.
A user of the American Reddit forum under the nickname kamaloo92 discovered excessive heating of the memory chips of his Asus GeForce RTX 3080 Ti TUF OC. Naturally, he tried to deal with the problem. After no possible software solutions have helped, it remains only to disassemble the video card. As it turned out, the reason for the excessive heating of the memory chips (up to 110 ° C) was the lack of a thermal pad. According to the user, there are traces of its short presence on the chips: it probably fell out during the installation of the cooling system.
Of course, after opening, the user installed the desired gasket and replaced the old ones, for this he used Gelid GP-Extreme with a thickness of 1.5 and 3 mm. After such a "repair", the heating of the memory chips dropped by a respectable 30 ° C - to 80 ° C.