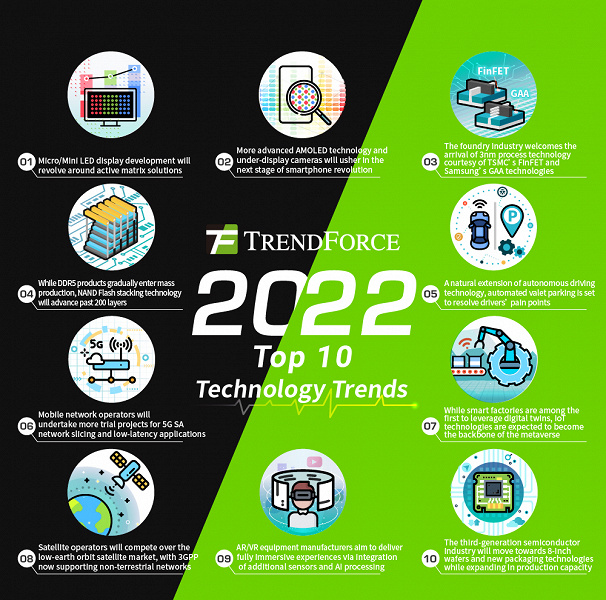 The website of the analytical company TrendForce has published a forecast, which identifies 10 main trends that are expected to take place in various segments of the high-tech industry in 2022.
The first is the ongoing development of micro-LED and mini-LED displays. According to analysts, a significant number of technical bottlenecks in micro-LED development will still persist in 2022", which will leave the cost of producing this type of display sky-high.
Analysts are confident that "more advanced AMOLED technology and under-display cameras will usher in a new phase in the smartphone revolution." Retail prices for foldable models are also expected to be within the range of conventional flagship models, which will boost sales.
In semiconductor production, the development of 3 nm standards will be decisive. At this stage, TSMC continues to rely on FinFET transistor technology, and Samsung will switch to GAA (this is the name of GAAFET in the implementation of the South Korean manufacturer ).
Mass production of DDR5 memory will gradually begin, and the number of layers in NAND flash memory will exceed 200. Mobile network operators will launch more pilot projects to segment 5G SA networks and low-latency applications.
Satellite operators will compete in the LEO satellite market, and 3GPP will include non-terrestrial networks in its Release 17 Protocol Coding Freeze standard. While smart factories were among the first to use digital twins, IoT technologies are expected to become the backbone of the metaverse, which is presented as an intelligent, complete, secure display of the physical world in real time.
AR and VR equipment makers will strive to provide complete immersion by integrating additional sensors and processing data using artificial intelligence algorithms. As a natural extension of autonomous driving technology, automated parking will become an important additional feature for high-end vehicles.
Driven by growing demand for EV components, the third-generation semiconductor industry will move towards 200mm SiC and GaN wafers and new packaging technologies.