The performance of mobile video cards is highly dependent on the power limits. We've talked about this on a number of occasions, but Razer's new gaming laptops make us take a second look. In this case, it is very illustrative.
The fact is that the 2021 Blade 17 model is available with both the RTX 3070 and the RTX 3080. And the second is supposedly faster than the first. However, the fact is that the first is characterized by a TGP of 130 W, while the second has this figure of 100 W. And although the second has more CUDA cores, this does not save it.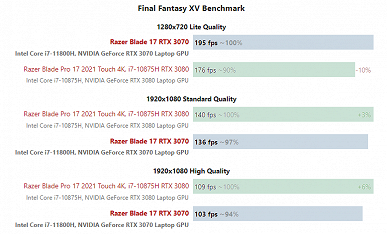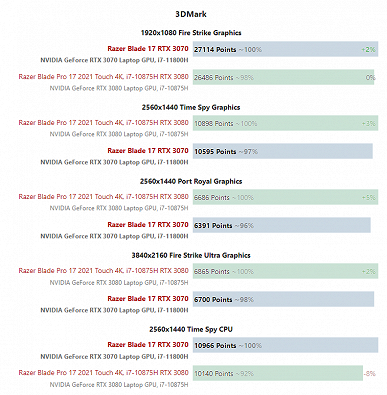 As tests show, in most cases it is slightly slower. The difference lies in the range of 2-11% in favor of the younger model. The difference is not critical, but the point is not in it, but in the fact that the majority of users, having considerably overpaid for the RTX 3080, will rightly expect significantly higher performance, and at best they will get the same. To make matters worse, Razer, unfortunately, does not list power limits for video cards on the site, although Nvidia requires this from manufacturers.