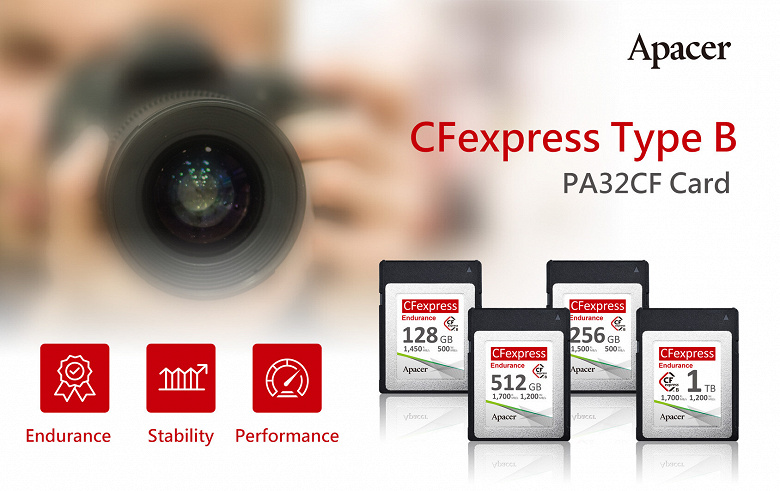 Apacer announced the launch of CFexpress Type B memory cards, which it describes as professional and military-grade removable media. In the second case, PA32CF cards have passed the MIL-STD-202G drop test and the MIL-STD-810G vibration test. In addition, they can withstand over 12,000 connections and disconnections without loss of functionality.
The new PCIe Gen3 x2 memory cards are aimed at photographers and videographers looking for high speed and reliability. According to the manufacturer, the cards are suitable for 4K and 8K videos.
Apacer PA32CF memory cards are offered in sizes of 128 GB, 256 GB, 512 GB, and 1 TB. Their resource is declared equal to 250, 500, 1000, and 2000 TBW, respectively. 128 and 256 GB cards provide write speeds up to 500 MB / s, and their read speeds reach 1450 and 1500 MB / s, respectively. 512GB and 1TB cards provide write speeds up to 1200MB / s and read speeds up to 1700MB / s. If we talk about performance, in read mode it reaches 33,000, 76,000, 116,000 and 117,000 IOPS, and in write mode - 48,000, 97,000, 142,000 and 124,000 IOPS for cards with a volume of 128 GB, 256 GB, 512 GB and 1 TB respectively.
The manufacturer does not provide prices.