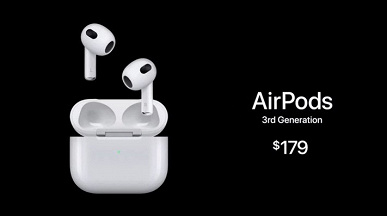 As expected, Apple today introduced the AirPods 3 headphones. This model has been waiting for a long time, but it has only now come to the official premiere. The informants who said that AirPods 3 will not receive active noise cancellation systems were right: ANC technology is still the prerogative of AirPods Pro.
Adaptive EQ technology debuted in AirPods. A company spokesman says that with an "adaptive equalizer," the headphones deliver exactly the sound of songs as they should be.
AirPods 3 received a new short-stem case and are now very similar to AirPods Pro. AirPods 3 are sweat and water-resistant. Now it is more convenient to handle the headphones - when you open the case, they connect to all user's devices (MacBook, iPhone, etc.).
Of course, Apple has improved the autonomy of the headphones: AirPods 3 last 6 hours on a single charge. The maximum autonomy is 30 hours (including the case battery). Fast charging is also supported: 5 minutes of connection to the charger results in an hour of autonomy. AirPods 3 also support MagSafe and wireless charging.