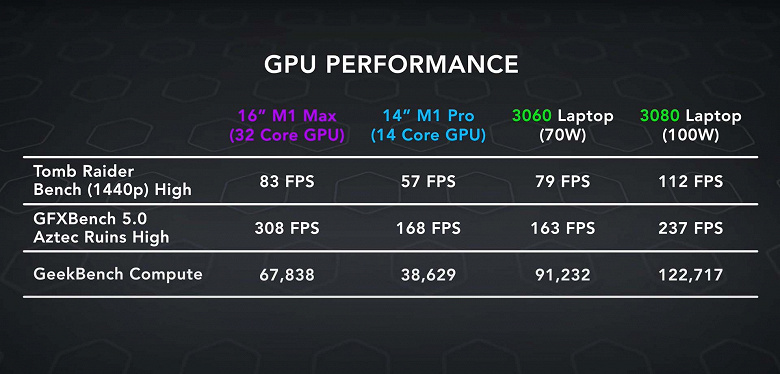 The GPU performance in the Apple M1 Max SoC exceeds 10 TFLOPS, which can be compared with the PS5 or GeForce RTX 2080. But the TFLOPS figure is not directly related to the performance in games. And now we have the opportunity to assess what Apple's solution is capable of in games.
And it is really capable of a lot. In Tomb Rider, the top-end Apple platform performs at the level of the mobile GeForce RTX 3060. Yes, we are talking about the 70-watt version, that is, almost the slowest. Recall that the RTX 3060 for laptops has a power limit ranging from 60 to 115 watts.
However, we are still talking about a very productive mobile video card of the most modern generation. Yes, you need to wait for tests in more games to put together a more complete picture, but you can state the very high performance of Apple's solution right now. M1 Pro, by the way, also looks decent. This is roughly the level of mobile GeForce RTX 3050 Ti or RTX 3050.
Of course, the MacBook Pro is not bought for games at all, since the situation with games on macOS is not easy. However, this does not prevent us from evaluating the new Apple SoCs simply in terms of their capabilities.