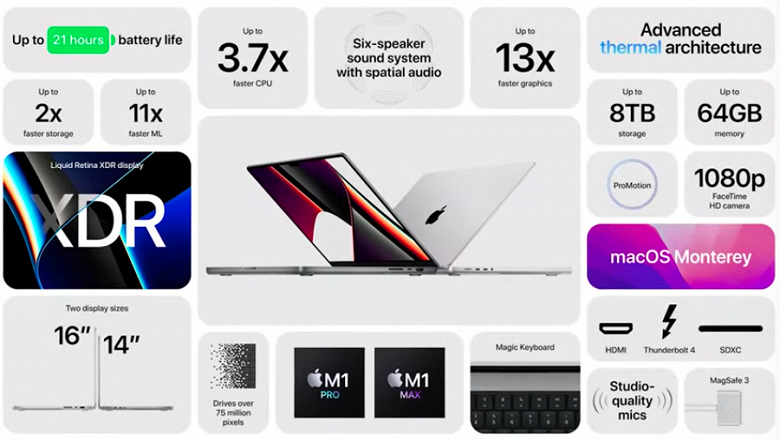 Apple today unveiled a new generation of MacBook Pro laptops. This is not just a platform update, the laptops have received a new design and a number of changes that many users have been expecting long ago.
The first thing that catches your eye is the notch that appears on the screen. Yes, the rumors of an iPhone-style "bangs" turned out to be absolutely true. The notch houses three microphones and a FaceTime HD 1080p camera.
Apple also decisively ditched the Touch Bar, which replaced the function keys on the MacBook Pro a few years ago. The laptop's Magic Keyboard now has a number of physical function keys, including a wider Escape key.
And finally, the triumphant return of the MagSafe magnetic charging connector took place. For a long time, MacBooks have used a USB Type-C port for charging. Anyone who has forgotten to unplug the power cord from a laptop before picking it up and carrying it away will agree that a magnetic plug can save a lot of frustration and money.
The new MacBook Pro comes in two versions - 14-inch or 16-inch. They are equipped with mini-LED displays with support for image refresh rates up to 120 Hz. The boxes around the screen significantly decreased, they became 60% narrower increased brightness of up to 1600 cd / m 2 , the contrast of 1,000,000: 1. The resolution is 3456 x 2234 and 3024 x 1964 pixels, with a density of 254 ppi.
Of the ports, there are three USB Type-C / Thunderbolt 4, HDMI, SD card slot, headphone jack and new MagSafe. As the manufacturer promises, the redesigned MagSafe 3 delivers more charging power than ever before. For the first time, fast charging technology has become available for Mac: now you can charge the device up to 50% in just half an hour. Users can connect up to two Pro Display XDRs to models with the M1 Pro chip. And models with the M1 Max chip support the simultaneous connection of up to three Pro Display XDRs along with a 4K TV. MacBook Pro also supports Wi-Fi 6 and Bluetooth 5.0 wireless connectivity.
It is based on the new SoC Apple - M1 Pro or M1 Max. You can read more about them in a separate newsletter. There are also new SSDs with a capacity of up to 8 TB, the read speed of which reaches 7.4 GB / s - this is more than 2 times higher when compared with the previous generation models.
The battery life of the 14-inch model is 17 hours in video playback mode, and the 16-inch model is 21 hours. This is 7 and 10 hours respectively longer than the previous generation models.
Also, the new laptops received a rich audio system, which consists of six Hi-Fi speakers, including low-frequency ones with resonance suppression.
The 14-inch MacBook Pro can be ordered in the US today for a starting price of $ 1,999, and the 16-inch MacBook Pro starts at $ 2,499. In both cases, versions are offered with an Apple M1 Pro, 16 GB of RAM, and a 512 GB SSD. Open sales will begin next week. Russian starting prices are 189,990 and 234,990 rubles, respectively.