Apple has just unveiled two new SoCs in its Apple Silicon family. They are called M1 Pro and M1 Max, according to the latest rumors. Not all SoCs differ from each other, although the difference is still great. The M1 Pro has 33.7 billion transistors, while the M1 Max already has 57 billion transistors, which is even more than the monstrous Nvidia GA100 GPU.
Moreover, both platforms have an identical processor. These are eight high-performance and two energy-efficient cores. Apple has not yet indicated the frequencies. What's different is the GPU. In the M1 Pro, the graphics core contains 16 cores, while in the M1 Max it already has 32 cores. These are 2048 and 4096 execution units, respectively. Recall that M1 graphics cores have only 8. GPU performance is 5.2 and 10.4 TFLOPS, respectively. For comparison, the 10.6 TFLOPS performance of the Radeon RX 6600 XT graphics card. True, this often has nothing to do with real performance in games and applications, but still impressive for a single-chip system.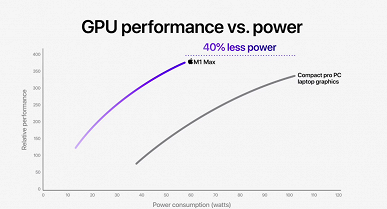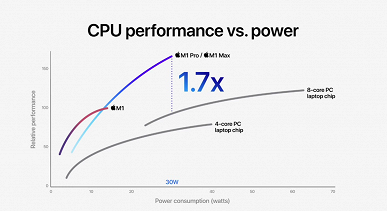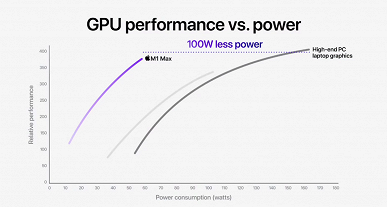 The youngest of the new SoCs is teamed with 32 GB of RAM with a bandwidth of 200 GB / s, while the older one offers 64 GB with 400 GB / s of bandwidth. In addition, the M1 Max has a doubled number of blocks for encoding and decoding video relative to the M1 Pro, including for video in the ProRes format.