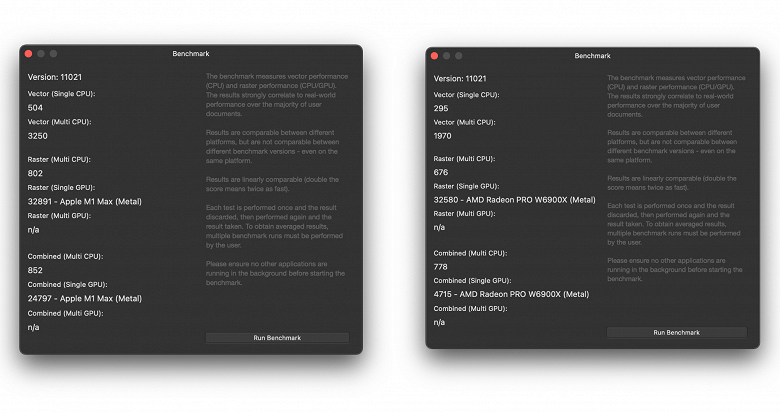 Yesterday we saw what the graphics core of the Apple M1 Max SoC is capable of in one game and a couple of benchmarks. But this is not why they usually buy a MacBook Pro, especially in top-end configurations.
What can such a solution offer to professionals?
The developer of the editor Affinity Photo shared the results of testing the new MacBook Pro with SoC M1 Max in full configuration, that is, with 32 GPU cores.
It turned out that in this case, the capabilities of Apple's solution are not just high - they are record-breaking. In the test, the M1 Max scored 32,891 points. For comparison, the top-end Radeon Pro W6900X available for the Mac Pro scores 32,580 points! That is, the GPU is a single-chip system that performs at the level (and even slightly outstrips) of the dedicated flagship video card with 32 GB of memory and a very high TDP. And such a Radeon card for Mac Pro in the Apple Configurator costs $ 5,600, and if you later buy it separately, then all $ 6,000. By the way, the performance of the Radeon Pro W6900X reaches 22.2 TFLOPS, that is, it is twice as high as that of the M1 Max.
The developer notes that such a stunning result from Apple Silicon will not always and not in all tests. But even one is enough to understand how a worthy decision came out from the Cupertines.