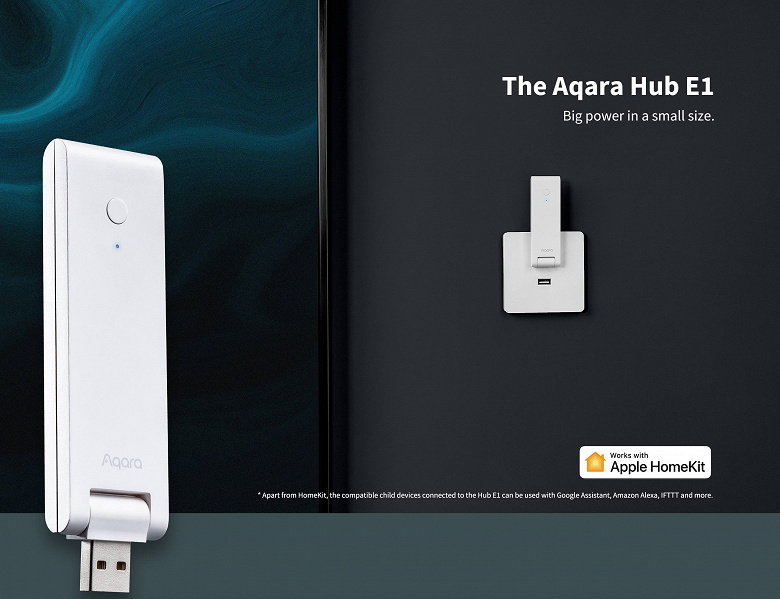 Aqara, which calls itself "the leading supplier of smart home products", today announced the Aqara Hub E1. It is a USB bus-powered Zigbee 3.0 smart home hub. It is also the smallest Aqara hub at the moment. According to the manufacturer, the hub serves as the control center for a wide range of Aqara components, supporting the connection of up to 128 daughter devices.
The dimensions of the Hub E1 are 108 x 30 x 7.6 mm, the weight is 58 g, that is, the hub is only slightly larger than a regular USB drive. It has a built-in USB-A connector, allowing it to be powered by almost any USB-equipped device such as wall outlets, extension cords, PCs, power supplies, and even Wi-Fi routers. A 210 ° rotatable design expands the hub's connectivity and placement options.
The hub ensures that connected Aqara child devices are compatible with the most popular ecosystems and voice assistants such as HomeKit, Alexa, Google Home, IFTTT, Alice, and Marusya. Additionally, the Hub E1 can act as a 2.4 GHz Wi-Fi repeater.
All four HomeKit alert modes are supported by the hub. Once set up, users will receive notifications on their smartphones when there is a risk to home security, such as when a person's movement is detected unexpectedly or when a door or window opens unexpectedly. In configurations with several Aqara hubs on the same network, in such cases, notifications will be triggered for them as well.
The Aqara Hub E1 smart home hub costs $ 30. Sales have already started.