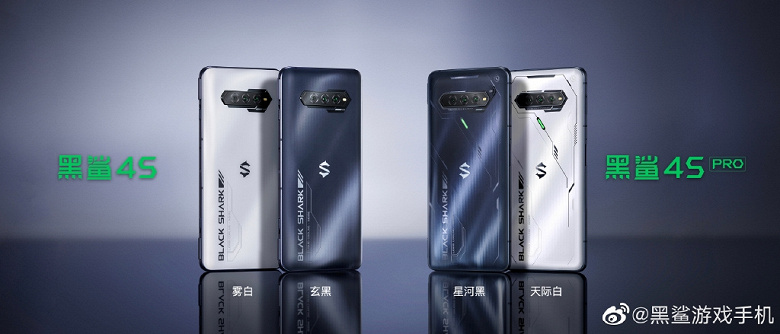 Xiaomi's gaming arm, Black Shark, has officially unveiled the Black Shark 4S and Black Shark 4S Pro flagship smartphones today. New items are already available for pre-order in China, with real sales starting on October 15th.
Smartphones have a lot in common. For example, they are equipped with the penultimate generation E4 AMOLED screens from Samsung, the frame rate was 144 Hz, and the screen size was 6.67 inches. Also configured with LPDDR5 memory, stereo speakers, magnetically actuated side triggers, and 11 temperature sensors for better temperature control. The battery capacity is 4500 mAh, 120W fast charging is supported.
The younger model is built on a single-chip Qualcomm Snapdragon 870 platform, while the Black Shark 4S Pro uses the Snapdragon 888 Plus.
Both smartphones have triple cameras, but the Black Shark 4S has a 48MP main sensor, and the Black Shark 4S Pro has 64MP. The resolution of additional sensors is the same in both cases - 8 and 5 megapixels. The Black Shark 4S comes with UFS 3.1 flash, while the Black Shark 4S Pro has a faster hybrid storage system with UFS 3.1 flash and SSD. Both new items work under the control of JOYUI 12.8.
The prices are as follows:
Black Shark 4S: 8/128 GB - $ 420, 12/128 GB - $ 465, 12/256 GB - $ 510
Black Shark 4S Pro: 12/256 GB - $ 745, 16/512 GB - $ 855
Black Shark 4S Gundam Limited Edition: 12/256 GB - $ 545