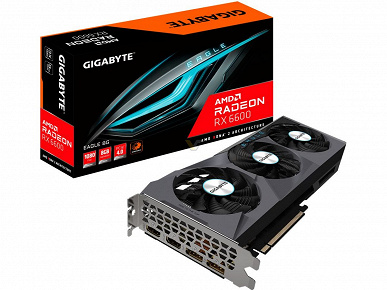 The range of video cards from Gigabyte has expanded with the Radeon RX 6600 EAGLE 8G model based on the recently introduced Radeon RX 6600. This video card, like the rest of the Radeon RX 6600 variants, does not have factory overclocking, but the manufacturer did not skimp on the cooling system.
A Windforce 3X cooler with three fans and a very long heatsink is used here: from the reverse side, in the slot of the heat distribution plate, you can clearly see that the cooler is about a third larger than the board itself. In general, there is definitely no need to fear for overheating of such a variant of the Radeon RX 6600.
The 3D map is built on GPU Navi 23 XL with 1792 stream processors. The base frequency is 1626 MHz, the maximum is 2491 MHz. The GPU is connected to 8GB of GDDR6 memory using a 128-bit bus. Auxiliary power is supplied via one eight-pin connector. The cost of the novelty, alas, is not named.