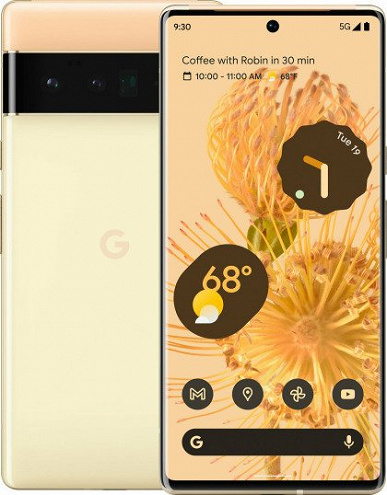 Google hasn't been very secretive about its new flagships, the Pixel 6 and Pixel 6 Pro. The first leaks (and quite truthful ones) appeared back in June, in August there was a small announcement on paper, and in the last couple of weeks, there were a lot of leaks that revealed almost everything about smartphones. In fact, all that remained was to find out the prices. And today Google has completely declassified new items, and, of course, talking about the prices. Let's start with them.
It should be noted right away that the Pixel 6 is noticeably cheaper at home than in Europe. So, the base Pixel 6 with 8 GB of RAM and 128 GB of flash memory in the US is estimated at $ 600. And the cost of the same smartphone in Europe is already 650 euros. The Pixel 6 Pro with 12GB of RAM and 128GB of storage costs $ 900 in the US and € 900 in Europe.
The Pixel 6 and Pixel 6 Pro will be the first Android 12 smartphones out of the box, no one doubted. But the Tensor hardware platform is interesting here - it differs markedly from another smartphone SoCs. The most important thing is the presence of two Cortex-X1 super cores in Tensor at once. For comparison, the same Snapdragon 888 and Snapdragon 888 Plus have one each. The next-generation single-chip systems, which will debut later this year and next year, will receive a more powerful super-core Cortex-X2, but so far Tensor is the most outstanding SoC in this regard. The powerful cores are complemented by two mid-performance cores and four energy-efficient cores. The SoC also has its own digital signal processor responsible for image and video capture and computational photography. Finally, the SoC is complemented by the Titan M2 chip, which protects the contents of the smartphone's memory (photos, text, and other data) from outside attacks. It should also be noted that Google has promised five years to update the Pixel 6 and Pixel 6 Pro - that is, they will receive updates until the end of 2026. Here Google even surpassed Samsung.
The Pixel 6 Pro has a 6.7-inch AMOLED LTPO screen with a resolution of 3120 x 1440 pixels and a frame rate of 120 Hz. The Pixel 6's screen is simpler, with a 6.4-inch AMOLED panel with Full HD + resolution at 90Hz. Both screens are protected by durable Gorilla Glass Victus, fingerprint scanners in both cases are integrated into the displays.
Cameras are an area where the new Pixels have significantly improved over their predecessors. And while a 12MP sensor is found on both the Pixel 6 Pro and Pixel 6 (both are paired with an ultra-wide-angle lens), the main sensors are much better. The main module in both Pixel 6 and Pixel 6 Pro is represented by a 50-megapixel sensor and a fast lens with an aperture of F / 1.85, this kit is complemented by an optical stabilization system. Apart from these two modules, the Pixel 6 Pro has a third one. It features a 48-megapixel sensor and an F / 3.5 aperture telephoto lens that provides 4x optical zoom (up to 20x with Super Res Zoom). This module also has optical stabilization.
The front cameras are embedded, but if in the Pixel 6 its resolution is 8 megapixels, then in the Pixel 6 Pro it is 11.1 megapixels.
The Pixel 6 Pro has a 5000mAh battery, while the Pixel 6 has a 4400mAh battery. Both smartphones support charging with a power of 30 W over the wire, the power of wireless charging does not differ significantly: the Pixel 6 has 21 W, the Pixel 6 Pro has 23 W. Also, both smartphones support reverse wireless charging, but, alas, there is no wired or wireless charger in the package of new products. Other common features include a 5G modem, Wi-Fi 6E adapters, Bluetooth 5.2, NFC and UWB, IP68 dust and water protection, USB Type-C 3.1 Gen 1 port.
The dimensions and weight of the Pixel 6 are 158.6 x 74.8 x 8.9 mm and 207 grams, the Pixel 6 Pro is 163.9 x 75.9 x 8.9 mm and 210 grams.