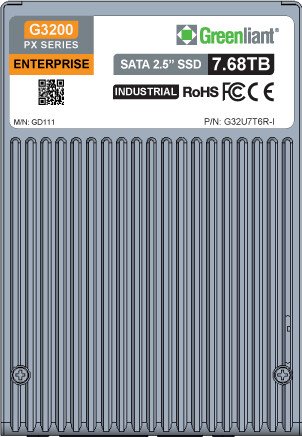 Greenliant has unveiled the G7200 PX solid-state drives that it claims will provide enterprise-grade data reliability, high performance, and industrial temperature performance (–40 ° C to + 85 ° C). The lineup includes models of 1.92, 3.84, and 7.68 TB. They use TLC 3D NAND memory.
The 2.5-inch SATA 6Gb / s drives are compatible with existing systems and are therefore well suited for upgrades by replacing hard drives with SSDs. They provide sequential read and write speeds of up to 550 and 530 MB / s, respectively. The resource is advertised as being able to perform two complete rewrites per day (DWPD) over a period of 5 years.
Among the advantages of the drives, the manufacturer considers the presence of a data loss protection scheme during a power outage, support for hardware encryption using the AES algorithm with a 256-bit key, and guaranteed data erasure without the possibility of recovery, as well as support for hot-swapping.
Greenliant 7200 PX preview samples are now available. The company plans to begin mass deliveries by the end of 2021.