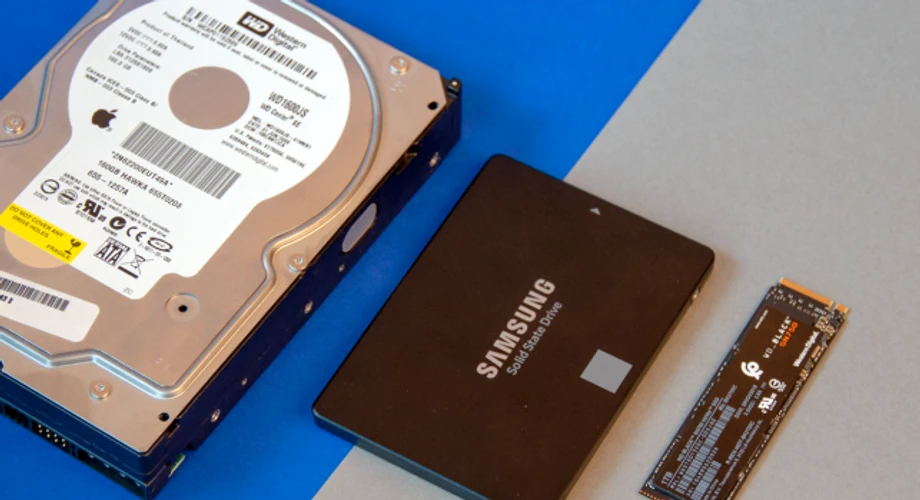 Regardless of whether it is a gaming PC, desktop workstation, or network storage, sufficient local storage for data, applications or games is essential. However, the prices are shaking the market up quite a bit. TechStage is immersed in the offers and shows the best price per TByte for an HDD, SSD, or M.2 NVMe. It quickly becomes clear: Classic SATA SSDs are now almost superfluous.
HDDs: More Tbytes are cheaper
With classic mechanical hard drives, you don't even start in the GByte range. This is where the really big and cheap hard drives are at home. However, you have to think carefully about the intended use beforehand. A hard drive that works permanently in a NAS or a surveillance system has to withstand different requirements than one that is started up in a PC a few hours per working day. When connecting, on the other hand, you only have to pay attention to a little. SATA-III is the standard, it doesn't get any faster (or slower).
Most hard drives spin between 5400 and 7200 times per minute. The faster, the louder the hard drive. The increase in speed, however, is not really big, especially if you take a cheap SSD as a comparison. SATA HDDs should be used for their size, not the data throughput. Because even the fastest HDD cannot hold a candle to a slow SATA SSD or M.2 NVMe.
Anyone looking for a new desktop hard drive will get the most storage for their money with an HDD. Huge hard drives such as the Toshiba X300 Performance with 8 TB of storage space in the bulk version are priced at less than 175 euros, which means that the TByte costs less than 22 euros. The Toshiba P300 desktop PC with 3 TByte is just above that, it is almost 68 euros and thus a little more than 22.60 euros per TByte. In fact, the Toshiba hard drives are the cheapest per TByte. Only in sixth place is an Intenso with 4 TByte for just under 95 euros and thus with 23.72 euros per TB of storage space.
Our tip: If you don't trust the hard drives, you should take two 3TB HDDs and plan one of them as a backup medium. If the content is still backed up on other systems anyway or if the disk is primarily intended to be used as a data store, then we recommend the 8 TB HDD. You have to get it full first.
Now we come to hard drives for NAS, which is probably still the most common use for HDDs. These devices sit between the desktop and the monitoring devices. They are likely to be used longer and more frequently than desktop systems but have more backup functions than individual hard drives in a monitoring station. Usually, a RAID is used. Although this does not replace a data backup, it can still restore the content if a disk in the network fails. To do this, however, you should use hard drives from the same product range and not mix manufacturers or hard drive sizes.
A NAS HDD with 14 TByte or 16 TByte offers the best price-per-TByte ratio, even if the prices themselves are comparatively high. The larger the hard drive, the cheaper the price level. The Toshiba Enterprise Capacity MG08ACA with 14 TB of storage costs 241 euros or 17.21 euros per TB. The Seagate Exos X - X16 with 16 TByte is a little more than 301 euros, which corresponds to 18.82 euros per TByte.
A limitation of the maximum price to 150 euros shows how stark the difference to cheaper records is. Then the hard drive with the best price-storage ratio is the Western Digital WD Red Plus with 4 TByte for 88 euros, so a proud 22 euros per TB of storage space. Accordingly, you should think about how much money you can spend on storage and if in doubt, go for larger hard drives. Because subsequently increasing the space on a NAS is a pretty annoying undertaking.
SATA SSD: 1 TB is the sweet spot
The era of SATA SSDs is coming to an end. This is mainly due to the fact that a much faster M.2 NVMe SSD on the PCIe bus now costs a similar amount. So why a SATA SSD? Well, they are wonderfully suitable for all systems that do not yet have an M.2 connection. Or you can use it as a fast cache in a NAS to speed up more complex applications or databases.
A look at the price-per-TByte list shows that SATA SSDs with 1 TByte offer a pretty good price point. Well, the Crucial BX500 currently has the best ratio with 2 TByte, with total costs of just under 145 euros you get 72.45 euros per TByte. We would advise against the Patriot P210 with 512 GB. The price per TByte is a low 77.16 euros, but the capacity of 512 GByte is full too quickly, especially if you want to install games. In third place: The Samsung SSD 870 QVO with 8 TB has a good 77.36 euros per GByte but has a proud total price of over 618 euros.
Our tip are SSDs with 1 TByte. At 78 euros per TByte, these offer the best price-performance ratio.
M.2 NVMe: 1 TB for PCIe 3.0 SSDs
M.2 SSDs with PCI Express 3.0 have seen quite a rapid development. In the meantime, at least the second generation of all products is on the market, and the price has fallen rapidly at the same time. Some of them are now cheaper than SATA SSDs.
With an M.2 NVMe there are big differences in the read and write speed, but even the slowest storage devices are far ahead of the classic SATA SSDs. How well the storage performs is shown in the article HDD, SSD, or NVMe: Who needs what? In our opinion, an M.2 NVMe is standard for a desktop system with slightly higher requirements. These include gaming computers or video editing.
Anyone who buys a PCIe SSD with 1 TB of storage gets the best price per TB. Here, too, we recommend buying a 1 TB NVMe like the ADATA XPG SX6000 Lite for just under 75 euros instead of investing just under 42 euros for a 500 GB SSD. More storage space is just always better, and it's worth the extra charge. In fact, it can then even be worthwhile to save on the Kingston NV1 with 2 Tbyte.
PCIe 4.0 M.2 NVMe: Patience is rewarded
The M.2 NVMe, which is connected via PCI Express 4.0, is part of the latest development on the consumer market. In short: The jump from PCIe 3.0 to PCIe 4.0 doubles the available bandwidth. In addition to the new graphics cards from Nvidia and AMD (best list), the M.2 memories also benefit from this. They fit into the same slots as their predecessors and are downward compatible without any problems (but then slower). They are also ideal for expanding the scarce memory of the PS5. More on this in the guide: Expand PS5 Storage in 5 Minutes with Fast NVMe.
However, the M.2 NVMe models with PCIe 4.0 have just recently come onto the market, so the prices are significantly higher than the PCIe 3.0 SSDs. As with a SATA SSD or the M.2 NMVe with PCIe 3.0, we recommend using 1 TB of storage. Currently, you pay at least 115 euros per 1 TB for an SSD with PCIe 4.0. However, if this meets the minimum requirements of the Playstation 5 (5500 MB / s reading), the 1 TB memory costs at least 132 euros.
Our tip: Very few systems currently use this type of storage. For the price of a fast PCIe 4.0 SSD, you get a PCIe 3.0 SSD that is almost twice as large, so you should think twice about whether the theoretically faster and smaller M.2 NVMe is really worth it. Such an SSD is only a good investment for owners of the Playstation 5, especially if many large PS5 games are stored on the console.
Conclusion
In our opinion, if you want to upgrade your desktop system with more memory, you cannot avoid an M.2 NVMe. The PCIe SSDs are simply much faster than their SATA counterparts, but cost the same or are even cheaper.
For those who only need storage space, a classic HDD is the best choice. Regardless of whether in the desktop or the NAS, if you look at the price per TByte, then no other storage solution can keep up (an exception may be cloud storage providers, but they are not very suitable for desktop systems or in the LAN). The only important thing here is that the respective hard drive is suitable for the intended use.
SATA SSDs, who still needs them?
Here you can maybe strike if you get a bargain with 2 TByte or 4 TByte to replace the HDD in the desktop. Otherwise, we would rather recommend M.2 NVMe. Whereby the variant with PCIe 3.0 should be sufficient for most users. Yes, the PCIe 4.0 SSDs are incredibly fast. But in order to be able to really take advantage of these features, the entire system, from the mainboard to the CPU and application, has to go along with it. Maybe that will change in 2022, but currently, we would rather wait here.