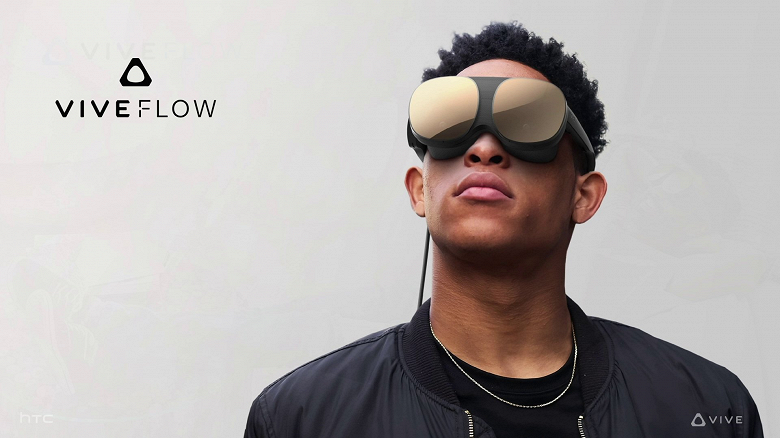 HTC has introduced a new virtual reality headset. The company has practically stopped selling smartphones, but with the direction of VR in general, HTC, apparently, is doing well.
The company's new model is called the Vive Flow. This is a standalone model, that is, it does not require a connection to a PC or smartphone for data processing. HTC is promoting the novelty not as a headset primarily for games, but as a device for content consumption, meditation, relaxation, and psychological well-being. How justified this is, especially at a considerable price, is still difficult to say. At the same time, the headset is based on the Qualcomm Snapdragon XR1 platform, which is less productive than the Snapdragon XR2 in the cheaper Oculus Quest 2. But Vive Flow offers six degrees of freedom.
It also talks about spatial sound, adjustable lenses, and an active cooling system. After pairing the headset with a smartphone via Bluetooth, the latter can be used as a controller for the headset and transfer some content. The headset has no native controllers.
But there are a number of interesting features. For example, the lenses here can be adjusted so that the headset suits people who wear glasses. There is also support for Miracast, which makes it possible to send a picture from YouTube, Netflix, and other applications to the headset directly from the smartphone.
The Vive Flow weighs only 189 g, however, there is a downside - poor battery life, albeit with a caveat. The headset itself can only work for a few minutes, after which you need to connect a special external battery to it.
Pre-orders have already begun to be accepted, and deliveries will begin in December. The price of the new product is $ 500, which is $ 200 more than asking for the aforementioned Oculus Quest 2.
The source cites comments from journalists who have already tested the device. They praise convenience and lightness but criticize the high price tag.