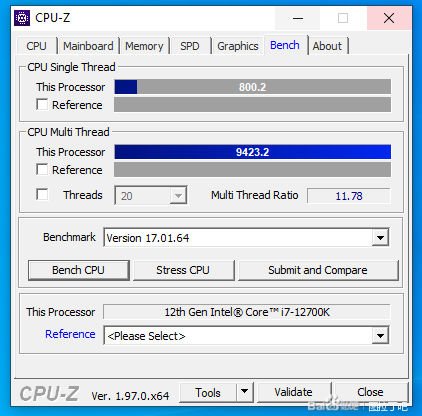 The 12-core Core i7-12700K processor showed its capabilities in the CPU-Z benchmark. The CPU scored 800 and 9423 points in single-threaded and multi-threaded modes, respectively. And these are great results.
If we are talking about single-threaded performance, then the new product is ahead of all existing CPUs. For example, it is 17% faster than the Core i9-11900K and 24% faster than its predecessor, the Core i7-11700K. The older Ryzen 5000 processors perform at about the level of the Core i7-11700K.
With multi-threaded performance, things are not so simple. For example, the 12-core Ryzen 9 5900X is slightly faster (9544 points). At the same time, it is capable of processing 24 data streams against 20 streams for the Core i7-12700K. In addition, AMD's solution has all 12 cores large, while the upcoming new Intel has only eight large cores, and also has four energy-efficient cores. That is, the result of the Intel CPU is very worthy of both the relatively excellent Ryzen 5000, and especially the relatively current Intel processors.
We will remind, Intel promised just with the help of Alder Lake processors to end the leadership of AMD. So far, everything looks good, but don't forget that Ryzen 5000 came out almost a year ago, and soon we will see the next generation.
The announcement of Alder Lake will take place on October 28, and the processors should appear on sale on November 4.