Intel has finally officially unveiled the Core 12 processors (aka Alder Lake). As expected, initially only the top models of three lines - Core i9, Core i7 and Core i5 - were offered to users. These are, respectively, Core i9-12900K and Core i9-12900KF, Core i7-12700K and Core i7-12700KF and Core i5-12600K and Core i5-12600KF. Their characteristics are presented in the table below.
Intel Core 12 differs from all its predecessors with a completely new microarchitecture, in which there is a division into large and small cores - like mobile platforms for smartphones and tablets. High-performance cores are called P-Cores (from Performance) and are based on the Golden Cove architecture, energy efficient cores are E-Core (from Efficiency), they are based on the Gracemont architecture. Accordingly, the flagship Core i9-12900K has eight productive and energy-efficient cores, the Core i7-12700K has eight productive and four energy-efficient ones, the Core i5-12600K has six productive and four energy-efficient ones.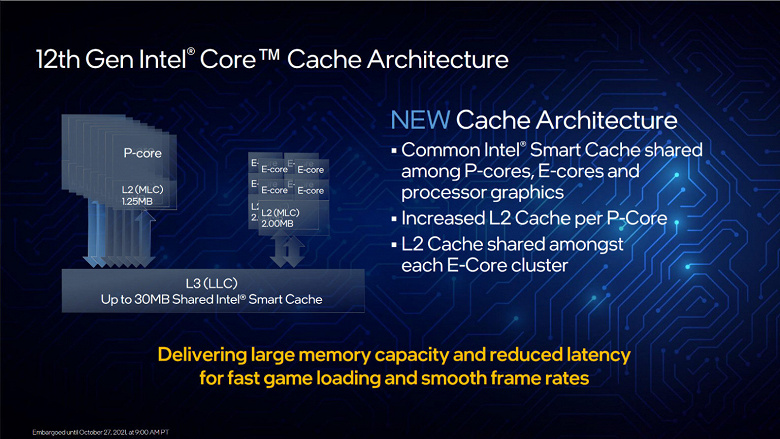 The L2 cache has been increased in all models in the series - it is 1.25 MB for high-performance cores and 2 MB for energy-efficient ones. The L3 cache is available for all cores and ranges from 30MB in the Core i9-12900K to 20MB in the Core i5-12600K.
Intel announces a 19% increase in IPC over 11th Gen (Rocket Lake-S) processors. The performance gain in games is about the same (20%). In some, it is even twice as high - plus 40% in League of Legends when using DirectX 11).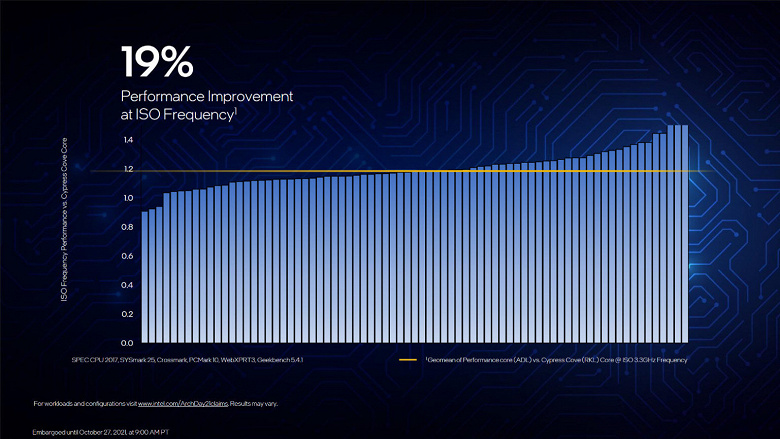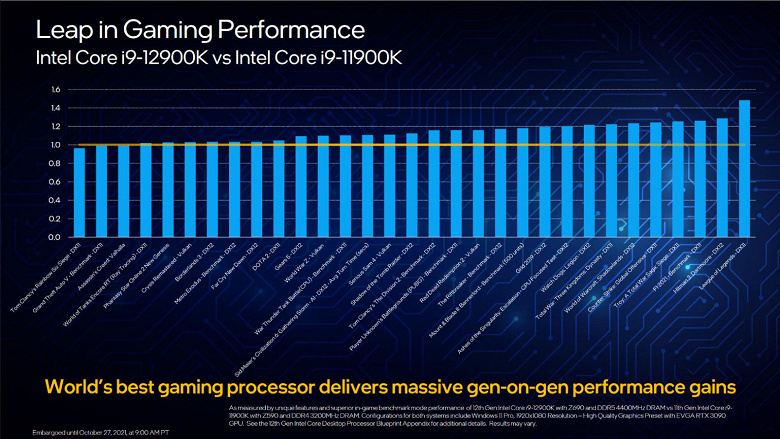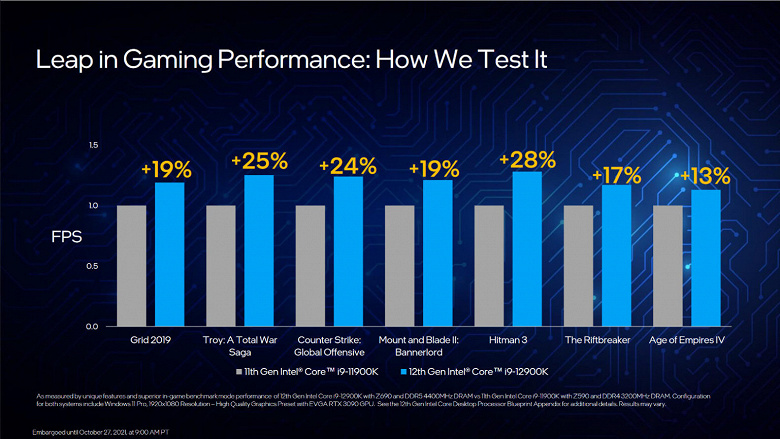 And here is a comparison of the Core i9-12900K and Ryzen 9 5950X in games. In some applications (Troy: Total War), the Intel flagship outperforms the AMD flagship by 30%, but on average, of course, the advantage of the "blue" CPU is less - about 15%. And in some games, the Ryzen 9 5950X still leads.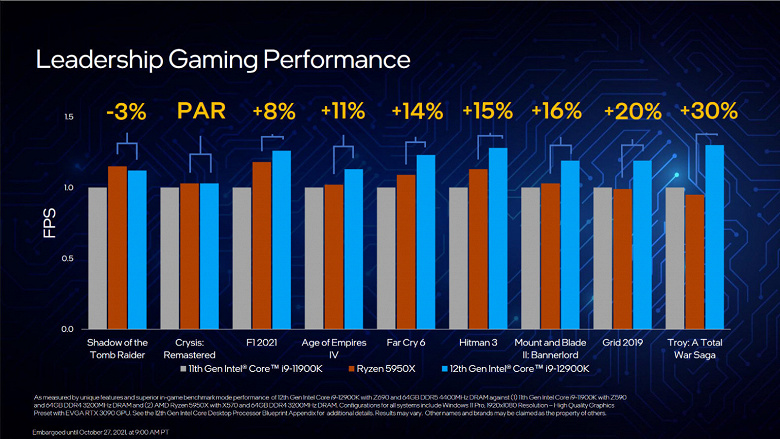 Here are a few more slides comparing the performance of the Core i9-12900K and Core i9-11900K in different applications.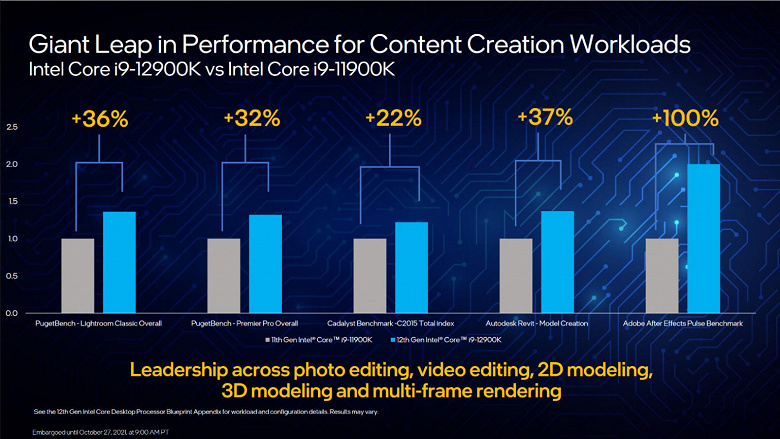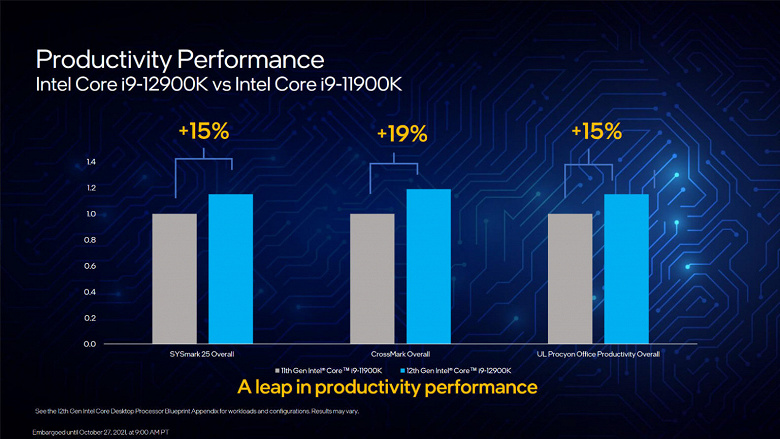 Together with the processors, a new platform debuted - so far with the top-end Intel Z690 chipset, but at the beginning of next year, simpler chipsets will catch up. As you can see, the platform provides 16 PCIe 5.0 lines via the processor controller and 12 PCIe 4.0 lines via the chipset controller. Also, the bandwidth of the DMI bus, which connects the CPU and the chipset, has been increased. Alder Lake supports both 4800 MT / s DDR RAM and 3200 MT / s DDR4 RAM.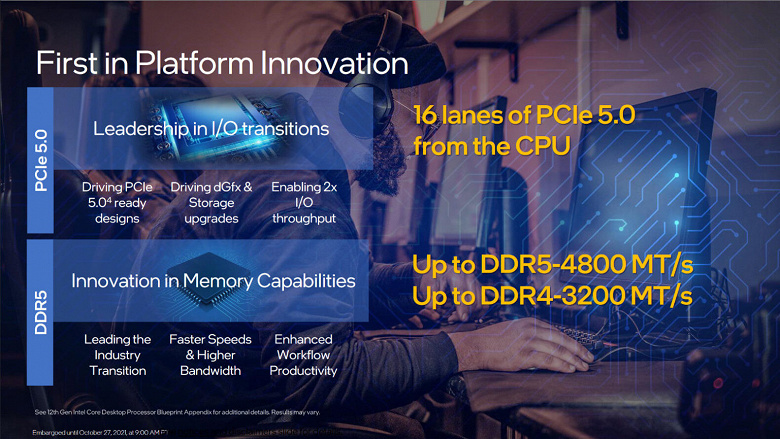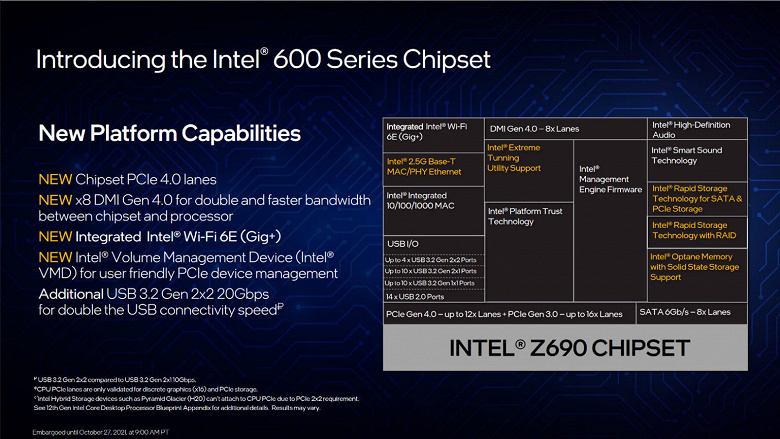 Physically, Alder Lake differs from its predecessors not only in its larger size and the new LGA1700 socket, but also in its increased heat dissipator.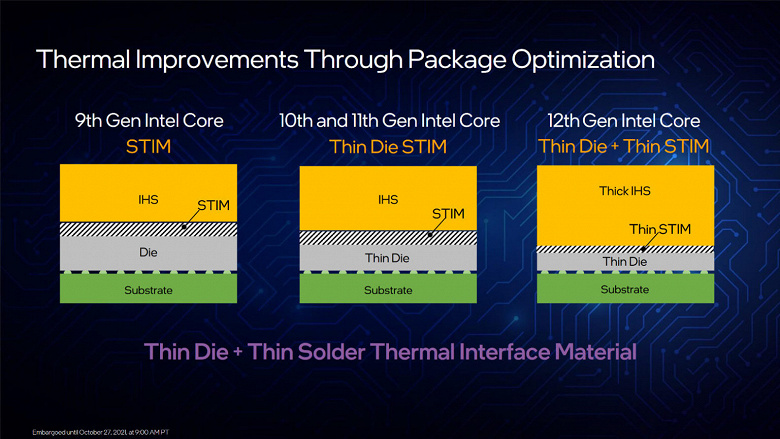 Along with the new processors, Intel introduced a new version of the proprietary Extreme Tuning Utility - with support for telemetry of both high-performance and energy-efficient cores, DDR5 memory and so on.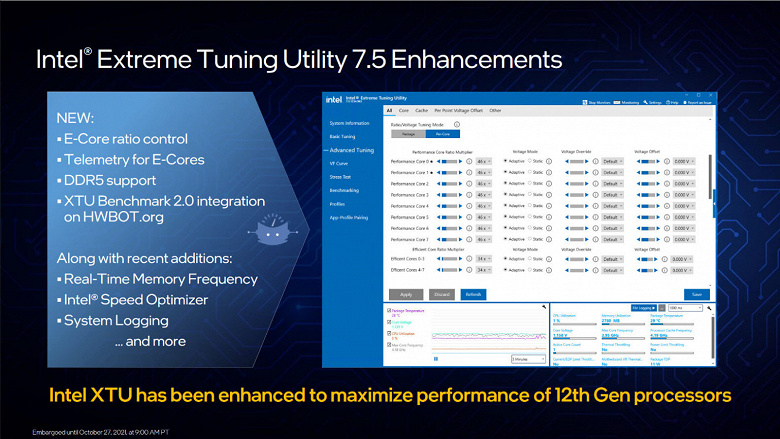 Alder Lake will go on sale on November 5th. The minimum recommended prices (when purchasing wholesale lots) are as follows: Core i9-12900K - $ 590, Core i9-12900KF - $ 565, Core i7-12700K - $ 410, Core i7-12700KF - $ 385, Core i5-12600K - $ 290, Core i5-12600KF - $ 265.