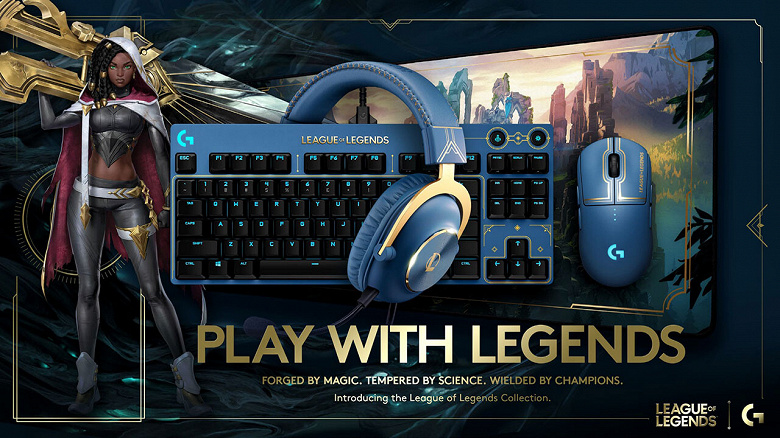 Logitech G, the professional gaming peripherals division of Logitech, has announced its continued partnership with Riot Games. The partners presented a new collection of gaming accessories for PC, designed in the style of the famous League of Legends game.
The collection includes a wireless gaming headset the X Logitech G PRO, wireless gaming mouse Logitech G PRO, gaming mechanical keyboard Logitech G PRO and gaming mouse pad Logitech G840 XL. The surfaces of these items are painted in League of Legends colors. As stated in a press release published by Logitech, this is done to "create a unique holistic experience and inspire users to new exploits in the game."
"We are thrilled to continue our partnership with Logitech G," said Ashley Maidy, Head of Consumer Products at Riot Games. The new Logitech G line of pro-grade devices will bring a new experience to any gamer by bringing our League of Legends Hextech technology into sleek and powerful products. "
All new items are already available on the LogitechG.com website. The PRO X Gaming Headset League of Legends Edition, the PRO Mechanical Gaming Keyboard League of Legends Edition, and the PRO Wireless Mouse League of Legends Edition are $ 130 each, and the Logitech G840 XL Gaming Mouse Pad League of Legends Edition is $ 50.
In Russia, sales will begin in December. The recommended retail price of the PRO X League of Legends Edition headset is 10,990 rubles. The PRO League of Legends Edition wireless mouse will cost the same, and the Logitech G840 XL League of Legends Edition mouse pad - 4490 rubles. The keyboard is not mentioned in the press release distributed by the local office of the company. Obviously, it will not be officially supplied to Russia.