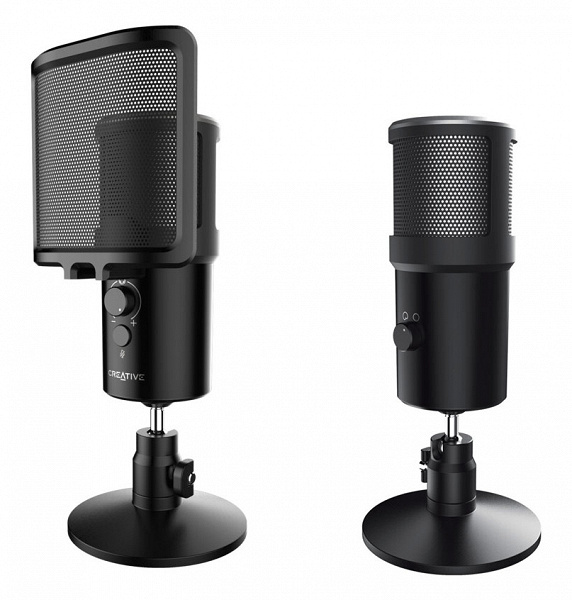 Creative introduced the Live! Mic M3 with USB interface. This microphone features two condenser capsules, allowing a simple switch to choose between cardioid and omnidirectional patterns. The first option is more suitable for a single source, for example, during streaming when playing games or for voice communication. The second option is preferable when it is necessary to convey all the surrounding sounds. The diameter of the capsules is 14 mm.
In addition to the directional pattern selector, there are two more controls: a microphone switch and a headphone signal level control connected to a 3.5 mm jack for monitoring. From whether the microphone is on or not, the two-color indicator allows you to judge. The microphone supports sampling rates of 44.1, 48, 88.2, and 96 kHz, 16- and 24-bit data representation.
The kit includes a removable pop filter with a magnetic mount, a tabletop stand with a ball joint and a 1.5 m cable with a micro-USB connector. The microphone housing has a 1 / 4-20 UNC mounting hole for mounting on a stand or pantograph. The dimensions of the microphone with stand and filter are 88 x 96 x 215 mm, without these accessories 57 x 61 x 127 mm. The weight is 570 and 170 g, respectively.
The novelty costs 60 euros.