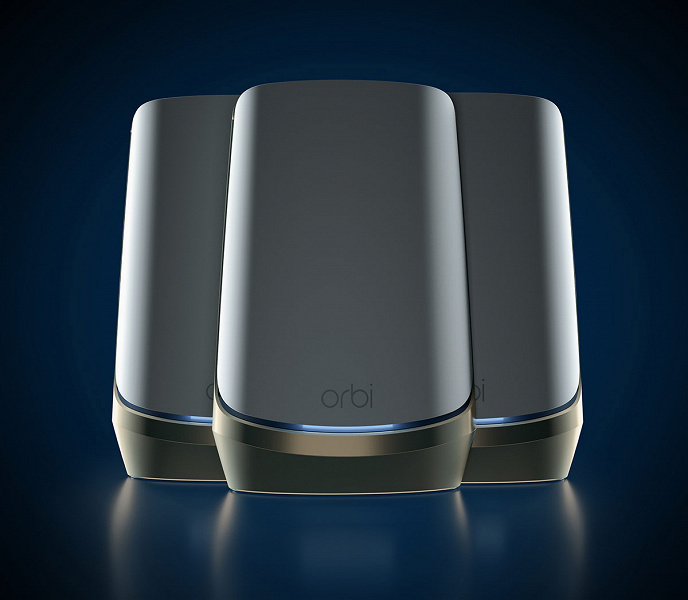 Netgear this week announced the launch of the next generation of smart home Wi-Fi networks, the Orbi Quad-band Mesh WiFi 6E System (RBKE960) for building a quad-band WiFi 6E mesh network. It is said to be the first system of its kind in the world. It allows you to provide multi-gigabit internet connectivity throughout your home, meeting the growing demands for the number of connected devices, quality of coverage, and data transfer speed. The manufacturer notes that the need for high-speed home networks has skyrocketed as large numbers of people find themselves isolated and shifted to telecommuting, learning, having fun, and socializing with friends and family.
Teleworking from home, virtual Zoom meetings with friends and family, watching live movies, shopping online, exercising, playing games and ordering food is becoming the norm now and will continue to be popular in the future. A 6G Wi-Fi 6E connection is, according to Netgear, the only way to get the internet speed you need at home to run smoothly with all of these applications.
The new Orbi system builds on the previously released Tri-Band WiFi 6 (RBK853) with support for a fourth frequency band. This new band provides a much-needed additional Wi-Fi spectrum to support multi-gigabit WiFi speeds on new smartphones and laptops without interference from other devices in the existing 2.4GHz and 5GHz bands. Among the devices that support Wi-Fi 6E, the company names Samsung Galaxy S21 and Fold 3 smartphones, Dell Latitude 5520 and Lenovo Thinkpad T14 laptops, Samsung Neo QLED 8K TV. Add Wi-Fi 6E support to desktops with the Intel WiFi 6E PCIe Expansion Card. A significant expansion of this list is expected in the near future.
Devices operating in the 2.4GHz and 5GHz WiFi bands will also benefit from improved coverage and speed with the Orbi RBKE960, thanks to the redesigned RF module and antenna. The router is configured with a 10 GbE WAN port. Additional 2.5 GbE ports have been added to the router and satellites to provide wired connectivity. The system supports WPA3 with 128-bit encryption.
RBKE963 kit includes a router and two satellites. It costs $ 1,500. A version with a black router is offered for the same price. The additional satellite RBSE960 costs $ 599.