It's no secret that professional video cards from AMD and Nvidia are technically practically the same as for gaming ones. Is it advisable to use such an adapter for games? The source decided to find the answer to this question and test the Nvidia RTX A4000 (previously it would belong to the Quadro family).
Technically, this is almost a copy of the GeForce RTX 3070 Ti. It has the same 6144 CUDA cores, twice as much memory (16GB versus 8GB), but the GPU and memory frequencies are lower. Can the RTX A4000 even come close to the RTX 3070 Ti?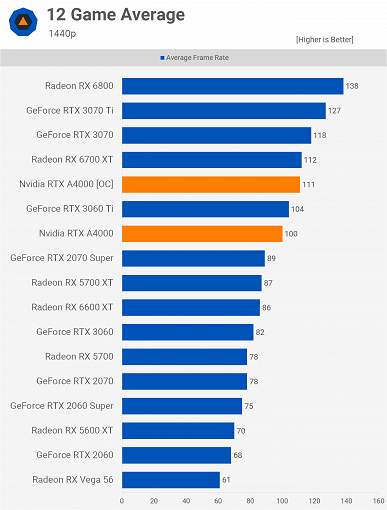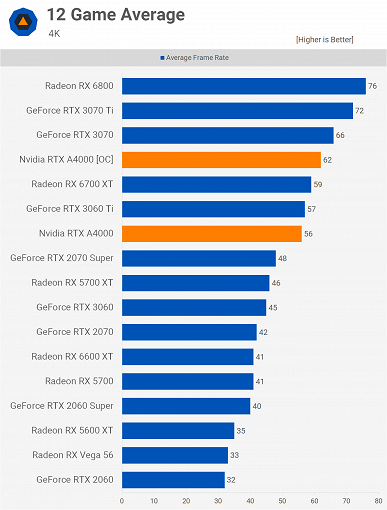 As you can see, no. Even an overclocked professional card lags behind the RTX 3070, and even more far from the RTX 3070 Ti. Without overclocking, the A4000 competes directly with the RTX 3060 Ti. Thus, the reduced memory and GPU frequencies are in no way compensated by the doubled memory size. On the other hand, even at 4K, on ​​average, a professional card provides 50-60 fps, which is very good.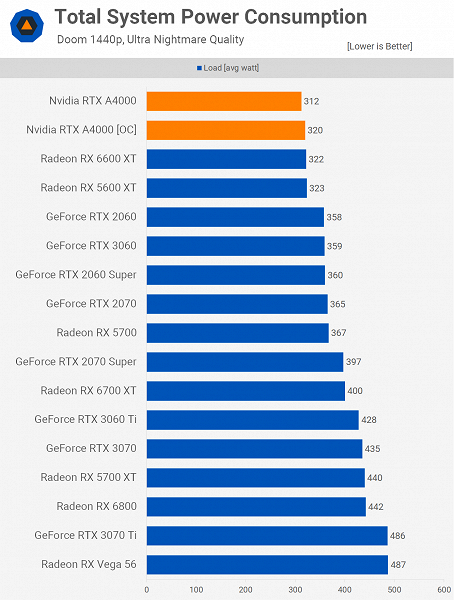 It's also worth noting that the RTX A4000 uses a lot less power, and overclocking doesn't really affect that. The card requires about 150 watts less power than its gaming counterpart, which is impressive. Even the Radeon RX 6600 XT is lagging behind in terms of consumption, and in fact it is also much less productive.
There is no point in buying an RTX A4000 instead of a gaming graphics card. Real prices in Europe start from 1300-1400 euros, and for this money, you can now buy an RTX 3080 or Radeon RX 6900 XT, which are much more productive.