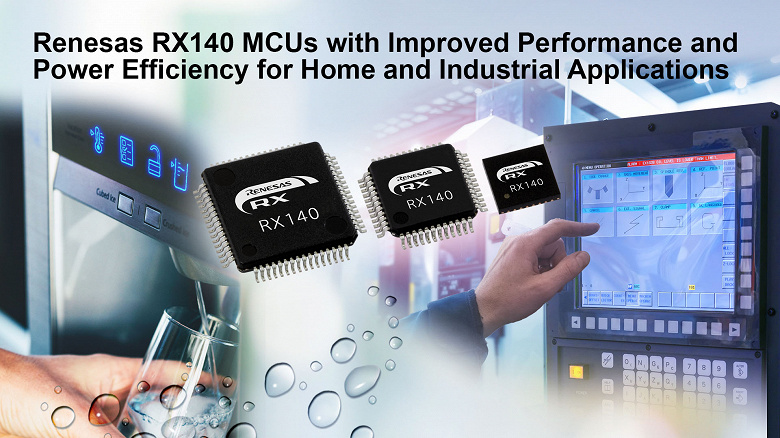 Renesas Electronics has introduced a group of ultra-low-power RX140 32-bit microcontrollers that complements the entry-level RX100 series. The RX140 microcontrollers, built on the powerful Renesas RXv2 processor core, clocked at up to 48 MHz, perform 204 points in the CoreMark test, which is about twice the result of the RX130 group of microcontrollers. Also, the RX140 microcontrollers are more than 30% more energy-efficient than their predecessors. Their current consumption is 56 μA / MHz in active mode and only 0.25 μA in standby mode. The new microcontrollers are designed for home appliances and industrial applications.
The RX140's strengths include the latest capacitive touch input blocks to deliver an enhanced user experience. They meet the immunity requirements for touch input as outlined in IEC EN61000-4-3 and EN61000-4-6. The built-in multi-scan function and automatic input recognition allow for increased sensitivity by simultaneously measuring with multiple electrodes. This allows automatic touch detection even in standby mode, making it easy to design interfaces with touchless or proximity functions.
The manufacturer also notes expanded peripheral equipment. For example, the number of I / O ports has been increased and support for the CAN bus has been added. Built-in AES encryption accelerator and True Random Number Generator (TRNG) reduce the risks of security threats such as data leakage or manipulation.
At the pin level, the RX140 microcontrollers are compatible with the RX130, making it easy for designers and manufacturers to implement.
At the same time, the Target Board is presented, which makes it easy to familiarize yourself with the RX140 microcontrollers and evaluate them.
The RX140 microcontroller group includes 64 KB flash models in 32 to 64 pin packages. Additional configurations and larger memory models (over 128 KB) should begin mass production in February 2022. As a price reference, the manufacturer reports that the R5F51403ADFM # 30 in a 64-lead LFQFP package with 64KB of flash is priced at $ 1.02 apiece for 10,000 orders.