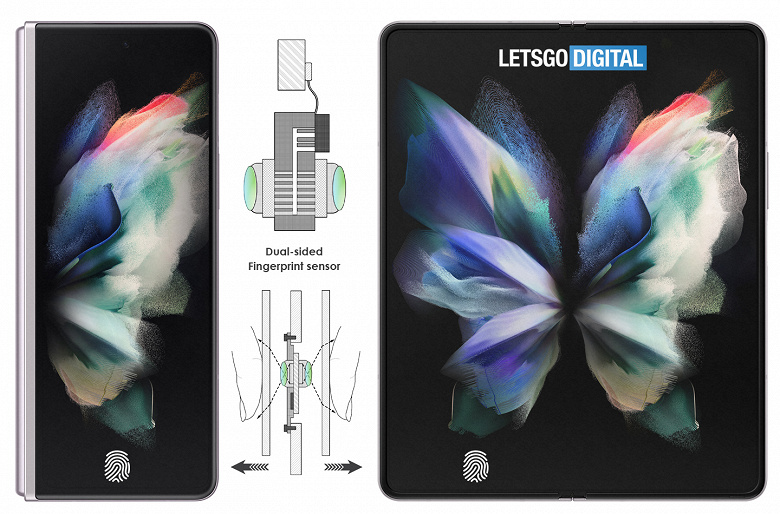 The new patent indicates that Samsung intends to equip its Galaxy Z Fold4 foldable phone with a unique under-display fingerprint scanner. Its peculiarity lies in the fact that it will be able to scan prints from both sides of the display.
It was previously expected that the Z Fold3 will be equipped with a fingerprint sensor, like regular Samsung Galaxy smartphones. However, in the end, the South Korean company decided to use a side-mounted fingerprint scanner. Now, documents indicate that Samsung has decided to implement a fingerprint recognition method that has never been used before.
A patent entitled "A foldable electronic device capable of detecting a fingerprint on at least part of the display" was published on October 7, 2021. It describes the fingerprint sensor positioned in such a way that it can be used both through the outer screen and through the foldable inner screen. This is made possible by placing the sensor under the lower-left half of the flexible screen. A small PCB is placed between the sensors, which in turn connects to the main PCB. This opens up a new possibility of biometric authentication in both the unfolded and folded positions.
In the patent, Samsung claims that because a foldable device has a flexible screen, it is more likely to wrinkle when you press the screen. So the existing fingerprint technology needs to be changed to get around this limitation, and a two-way fingerprint sensor seems to be the best solution.
With the increasing competition in the smartphone market, Samsung, which is still the leader in this segment, must introduce something new in order to stand out and maintain a dominant position.