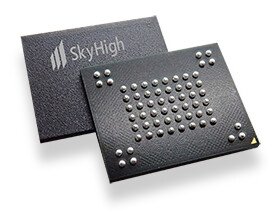 SkyHigh Memory, a global leader in embedded storage solutions, has unveiled SLC NAND ML-3 flash memory chips. They are rated for 3.0 V supply voltages and are offered in 1, 2, and 4 Gbps densities, logically organized in 2 KB and 4 KB pages. The new chips are manufactured using 1xnm technology, the most advanced technology used in SLC NAND flash memory. The family includes first-generation SPI serial and parallel ICs. They complimented the already produced ML-3 microcircuits with a density of 4, 8, and 16 Gbit with a parallel interface.
The manufacturer considers the advantages of the new SLC NAND microcircuits to be guaranteed retention of operability at temperatures up to + 105 ° C. In addition, thanks to the internal ECC mechanism, ML-3 chips can be used with both modern chipsets and older ones equipped with a 1-bit ECC module. ML-3 provides various security features to help protect boot code, system firmware, and application integrity from malicious software. They are well suited for applications with increased reliability and security requirements, including industrial controllers, networking equipment, and IoT devices.
ML-3 SPI SLC NAND is available in 6 x 8 mm LGA 8-pin, ML-3 Parallel SLC NAND in 12 x 20 mm 48-pin TSOP and 9 x 11 mm 63-pin BGA.