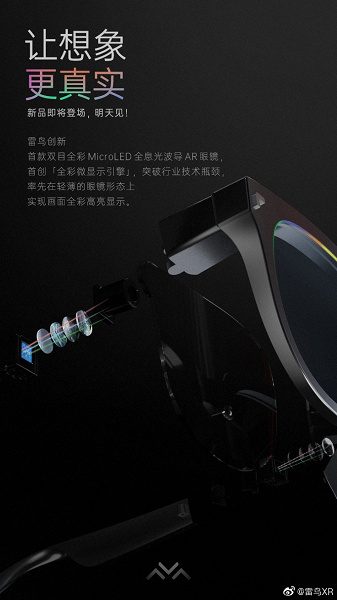 Someday smart glasses will become as every day as smartwatches are now, but so far there are not many glasses on the market, even in the form of conceptual devices. The recently announced TCL Thunderbird Smart Glasses Pioneer Edition compares favorably with other similar devices with one important feature - the presence of a color screen. Neither Ray-Ban Stories, co-created with Facebook, nor Razer Anzu have this. The HTC Vive Flow has a color screen, but it's still a VR headset, which very remotely resembles glasses.
Meanwhile, the Thunderbird Smart Glasses Pioneer Edition really looks like completely ordinary glasses. But inside the screen is not even a Mini, but a Micro-LED. There is also a built-in loudspeaker, touchscreen control panel, and a camera, and in this model, it is located on the bridge of the nose, and not to the side of the lens.
The control interface looks nice and functional. The video demonstrates possible scenarios for daily use of the glasses, from watching videos and reading emails to capturing an image.
Alas, when will be released and how much will cost Thunderbird Smart Glasses Pioneer Edition, has not yet been reported. But TCL is a very large company, and it is quite capable of organizing mass production of such a device in the near future.