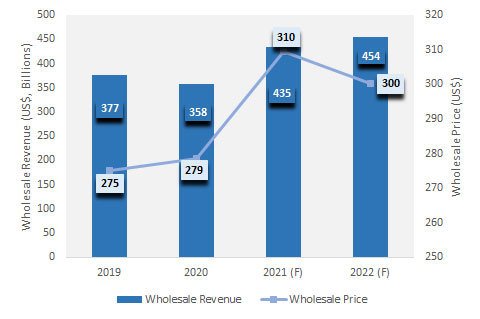 According to the latest research by Strategy Analytics, the global wholesale price of smartphones will grow 11% this year compared to last year, from $ 279 to $ 310. This is the first time in the past nine years that the global average wholesale price has surpassed the $ 300 mark
Global smartphone wholesale revenues are expected to grow 21% year over year to reach the highest ever value of $ 435 billion. This is driven by a 9% increase in smartphone sales and a higher average price.
Analysts attribute the rise in prices to technology migration towards 5G smartphones, supply restrictions due to a lack of components, and hardware innovations such as the folding form factor proposed by Samsung. The recently launched iPhone 13 series is expected to make its contribution in the fourth quarter of 2021. Analysts predict that the $ 600 and up price segment will grow 34% year over year for quantity and 48% for revenue. This is significantly higher than the indicators in other segments and in the market as a whole.