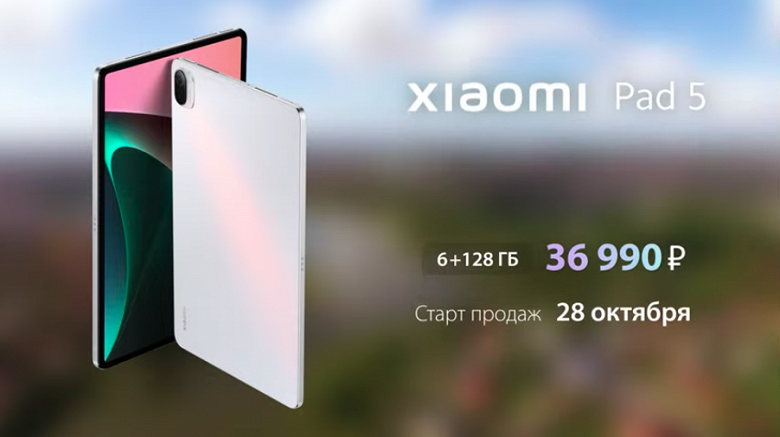 In addition to the new flagship smartphones Xiaomi 11T and Xiaomi 11T Pro, as well as the more affordable Xiaomi 11 Lite 5G NE, Xiaomi presented today in Russia its first tablet in several years - Xiaomi Pad 5.
The last tablet of the company before that was the Xiaomi Mi Pad 4, which was released three years ago. The international presentation of the Xiaomi Pad 5 took place on September 15, and the older model, the Xiaomi Pad 5 Pro, is also offered in China.
In Russia, as well as in Europe, Xiaomi brought only Xiaomi Pad 5. To Russian users, Xiaomi Pad 5 is offered in a version with 6 GB of RAM and 128 GB of flash memory at a recommended retail price of 36,990 rubles. Open sales will begin on October 28th. Available in gray and white colors.
From October 21, there will be a special price for Xiaomi Pad 5 on Aliexpress TMall. From October 22 to 24, Xiaomi Pad 5 will be available for 33,990 rubles in the official Xiaomi store in Russia, as well as in Citylink, Ozon, and Wildberries.
When buying Xiaomi Pad 5 from October 28 to November 4, Mi True Wireless Earphones 2 Basic are included as a gift.
Xiaomi Pad 5 received an IPS screen with a diagonal of 11 inches, a resolution of 2560 x 1600 pixels with an image refresh rate of 120 Hz, SoC Snapdragon 860, cameras with a resolution of 8 and 13 megapixels, four speakers, an 8720 mAh battery with support for 33 W fast charging.