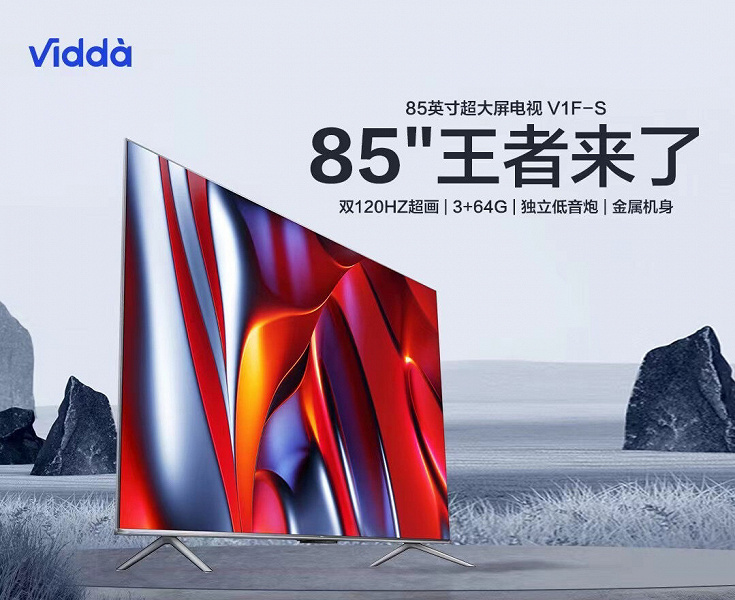 Hisense has officially unveiled the flagship TV in China under its Vidda brand. Hisense Vidda 85V1F-S smart TV is equipped with an 85-inch LCD screen supporting 4K resolution, HDR10 high dynamic range, and 120 Hz refresh rate.
The screen occupies 97% of the bezel area and supports dynamic MEMC frame addition for improved smoothness. The Hisense Vidda 85V1F-S LED backlight uses an expensive red phosphor, which the company claims increases the BT.709 color gamut coverage up to 130%, which is 30% higher than that of a conventional TV.
The device is powered by a quad-core Cortex-A73 SoC paired with 3GB of RAM and 64GB of internal flash storage. It supports dual-band Wi-Fi and external hard drive connectivity for cloud NAS storage.
The device has built-in full-range speakers (2 x 18 W) and a 25 W subwoofer. In addition, there is a large 2.5L resonator for high-quality sound. It also supports Dolby Atmos, Viper, and Dolby + DTS dual decoding.
Hisense is positioning this new flagship Smart TV as an offering for the gaming enthusiast: it supports Variable Refresh Rate (VRR), has HDMI 2.1, and allows you to connect PS5, Xbox, or other games consoles and play in 4K resolution at 120Hz. The TV can also be connected to the Tencent START cloud gaming platform to play on the TV using a controller.