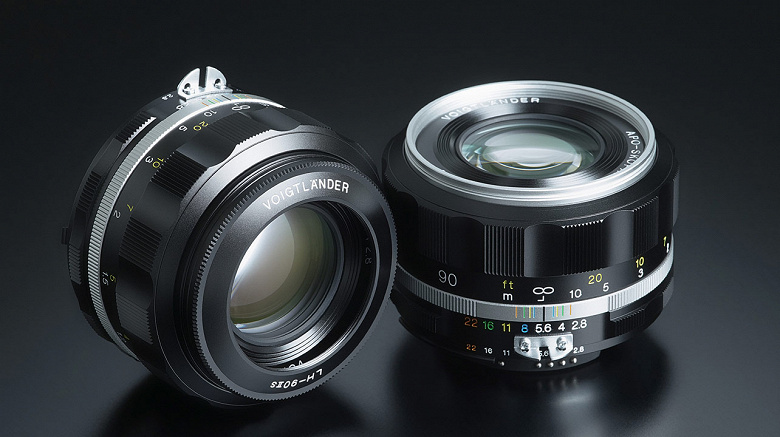 Along with the Voigtlander Apo-Skopar 90mm f / 2.8 VM lens equipped with a Leica M mount, the Voigtlander Apo-Skopar 90mm f / 2.8 SL II S lens for Nikon SLR cameras has appeared in the Cosina catalog. These products are built according to the same optical scheme, but outwardly they differ markedly. The version with the Nikon F mount is one and a half times shorter than the version with the Leica M mount, but slightly larger in diameter, weighs a little more, and is designed for filters with a diameter of 52 mm, not 39 mm. In addition, its diaphragm has nine rather than ten blades. The lens for Nikon cameras is equipped with a processor and can transfer data to the camera for recording in EXIF. The hood, unlike the version for Leica cameras, is not included in the kit.
The rest of the lenses are similar. The Nikon F mount is also suitable for full-frame cameras and focuses manually. The apochromatic optical scheme underlying it, according to the manufacturer, made it possible to reduce chromatic distortion to almost zero. In addition, the manufacturer notes that "the focus ring and aperture ring are made of metal, and the precise knurling and large finger notches not only evoke a sense of aesthetic pleasure and nostalgia but are also functional, enhancing the feel of manual control."
Voigtlander Apo-Skopar 90mm f / 2.8 SL II S technical data:
focal length - 90 mm
optical design - 7 elements in 7 groups
aperture - f / 2.8-f / 22
the number of aperture blades - 9
minimum focusing distance - 90 cm
maximum magnification - 1: 8.1 cm
filter installation diameter - 52 mm
diameter - 66.3 mm
length - 41.0 mm
weight - 260 g
The lens will be offered in two exterior designs. In Japan, sales will begin in November for about $ 595. The LH-90 IIS hood will be available for $ 44. As a reminder, the lens for Leica cameras, complete with hood, costs $ 790.