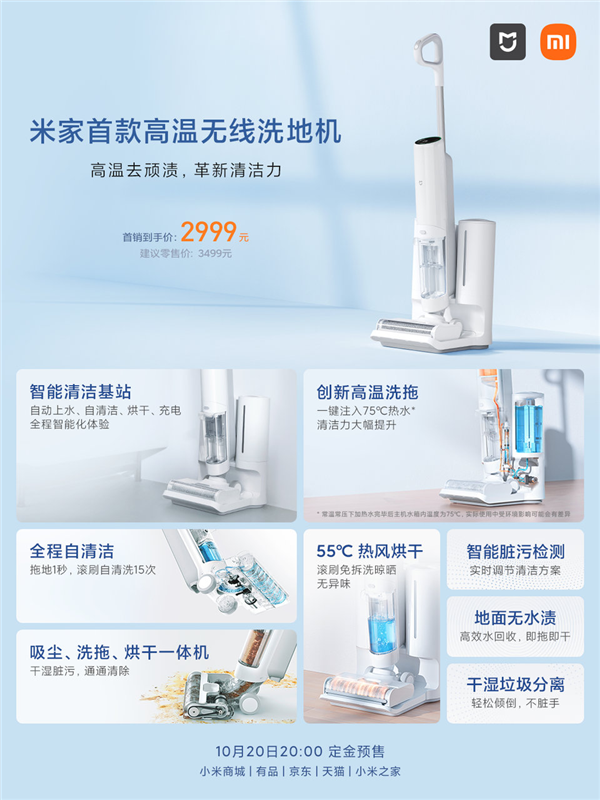 Robot vacuum cleaners are becoming an increasingly common part of modern households, but they are not good at removing stubborn dirt, even washing models. Xiaomi has released the Xiaomi MIJIA High-Temperature Wireless Floor Scrubber Handheld Wireless Vacuum Cleaner with the long name.
As the name suggests, high-temperature cleaning is one of the main features of the device. The vacuum cleaner has an innovative mode that delivers water at a temperature of 75 ° C. With the use of a cleaning solution, it can effectively dissolve stubborn stains and also wipe the floor 15 times per second.
The gadget has three modes: suction, mopping, and washing, in which the floor is cleaned and dry and wet debris is removed at the same time. In addition, the built-in sensor can monitor the floor contamination in real-time, automatically adjust the water volume and suction pressure, prolonging the battery life.
After cleaning the floor, when you return the vacuum cleaner to the base station, the roller brush can automatically clean itself with a single button. After cleaning, it will be dried with hot air to avoid unpleasant odors and mold.
The device can work without recharging for up to 35 minutes, the vacuum cleaner is equipped with a 780 ml clean water tank and a 680 ml dirty water tank. The vacuum cleaner is equipped with a 3.5-inch LED screen that shows various information. There are voice prompts.
The novelty will be released on October 20 at a price of $ 466.