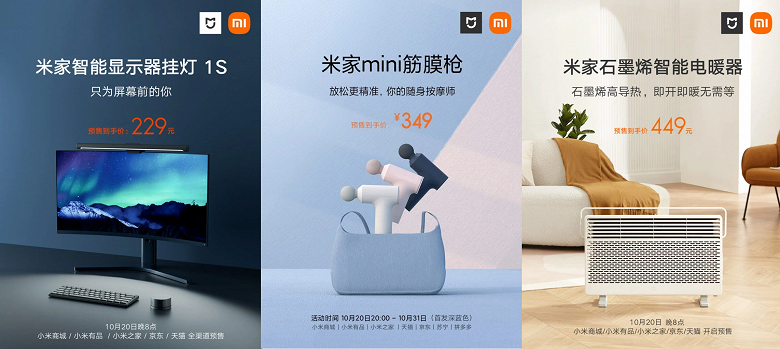 Xiaomi unveiled several new products at once, including the Mijia Mini Massage Gun, a rechargeable version of the Mijia Smart Curtain drive, the Mijia Smart Display Hanging Lamp 1S and the Mijia Graphene Smart Electric Heater.
The Mijia Smart Display Hanging Light 1S is essentially a downward-facing lamp that can be attached to the top of any monitor, illuminating your workspace and reducing eye strain. It can be mounted on a display with a thickness of 0 to 32 mm. It supports Mijia APP control and voice commands. The price is $ 36.
The Mijia Graphene Smart Electric Heater is sure to be in demand in the coming months. The device supports the Mijia application and can be used in conjunction with other gadgets and smart home sensors. The heater costs $ 70.
The Xiaomi Mijia Mini Massage Gun will be available in three color options for around $ 55.