It goes without saying that you should not rely on synthetic tests alone when buying. However, they provide useful information to think about. The simplest conclusion that arises after studying the ratings is that the higher the result, the more the model is suitable for games. But if several models use an identical platform, then according to the test results we can understand which smartphone has better-organized cooling and better-optimized software.
The global ranking for October is still in preparation, but now we can get acquainted with the results obtained in the Chinese market. This is the largest market in the world and contains most of the devices that are sold in the rest of the world, so there will not be much different from the global ranking.
Well, let's start with the flagship devices. Here we see that Xiaomi with its Black Shark 4S Pro, released in October, knocked out the RedMagic 6S Pro from the leaders with a score of 875,902 points. The new gaming flagship boasts UFS 3.1 storage in a RAID configuration for faster read and writes speeds when opening apps and accessing content. It also features a 6.67-inch E4 AMOLED screen with a 144Hz refresh rate and 720Hz sensor polling rate. Its 4,500mAh battery supports 120W fast charging.
If you look at the devices that made it into the top 10 last month, you can see that they are all powered by Snapdragon 888 Plus or Snapdragon 888. This suggests that Qualcomm still dominates the premium Android category.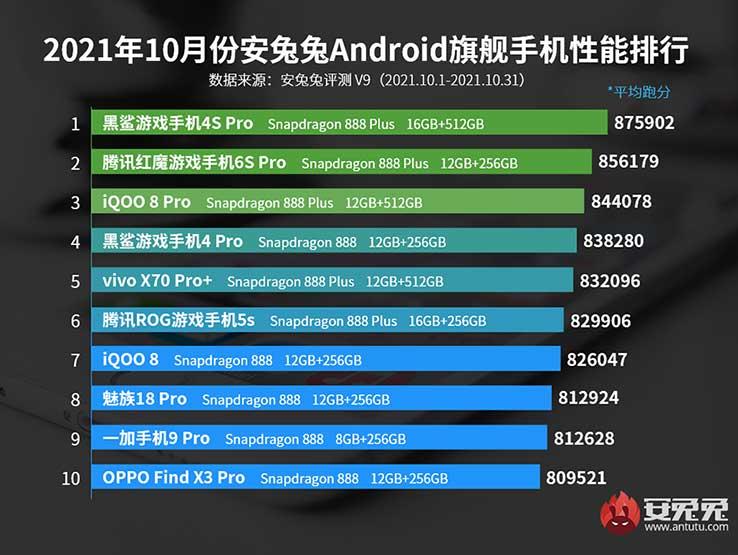 Unlike in the recent past, Qualcomm is now incredibly strong in the mid-range category as well. Seven of the top 10 top-performing Android models for October use the Snapdragon chipset, and six of them are powered by the Snapdragon 778G SoC. Leadership belongs to the iQOO Z5 smartphone of the former Vivo sub-brand.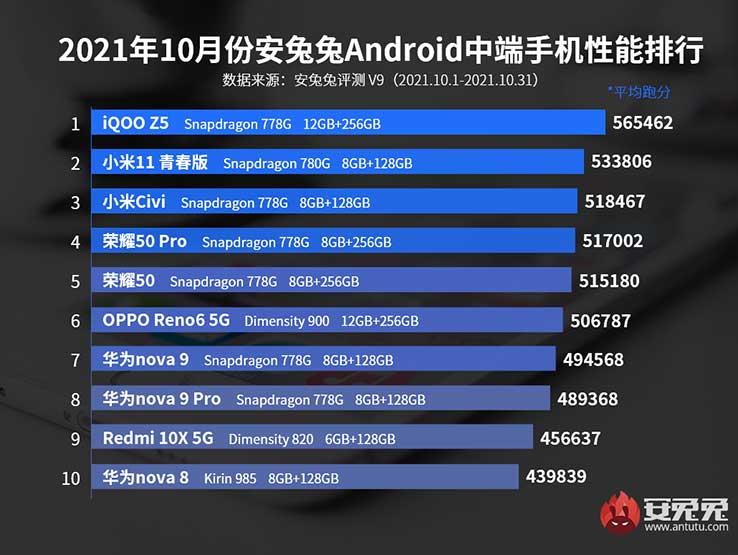 Only a few non-Snapdragon models were included in the latest Antutu ranking: OPPO Reno6 5G with MediaTek Dimensity 900, Redmi 10X 5G with Dimensity 820, and Huawei Nova 8 with Kirin 985.