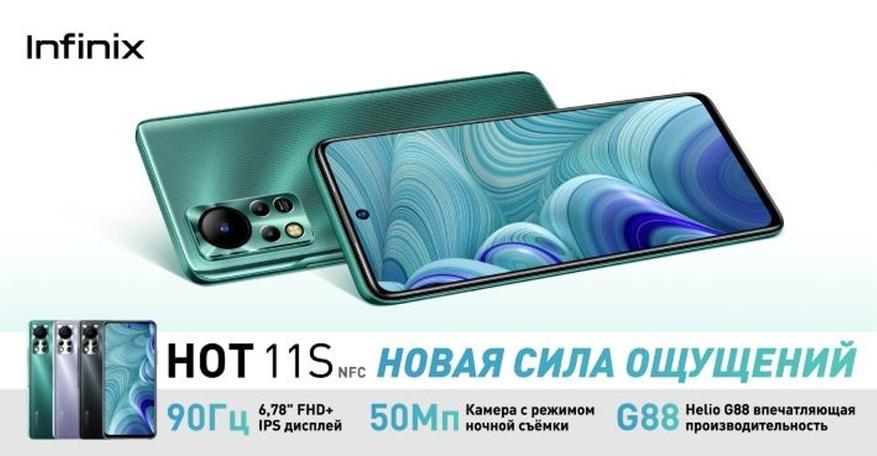 Within a week and a half, the international technology company Infinix will officially start selling the 11th generation of Note and Hot smartphones. Previously, both series have proven themselves well among users and were warmly received by the press and tech bloggers. The first models to be officially available in the country will be the Infinix Hot 11S and the Infinix Note 11 Pro.
The Hot Series is distinguished by its innovative design combined with superior features to guarantee users incredible emotions at an attractive price. The new Infinix Hot 11S is no exception and incorporates technological solutions that meet user expectations of a modern, easy-to-use, and productive device.
The smartphone is powered by the latest generation of the eightieth series of MediaTek processors: Helio G88. This high-performance and the energy-efficient chip will make it easy to solve any daily tasks, and will also give you the opportunity to while away your time on the road with games. Infinix Hot 11S will be one of the first smartphones on the Russian market equipped with this processor.
In addition, support for higher-resolution cameras appeared in the G88, which allowed the company's developers to install a 50-megapixel module with an f / 1.6 aperture as the main camera. This solution provides high-quality images not only in good lighting but also during night shooting, allowing users to retain memories of the brightest events in their lives, whether it is walking in the city on a sunny day or an incendiary party at the end of a busy week.
The company also strives to listen to the wishes of its customers, so the new generation of the Hot series has received an FHD + screen with increased contrast and a refresh rate of 90 Hz, as well as a USB Type-C connector and standard 18W fast charging.
The older Note series incorporates cutting-edge technologies and makes them accessible to the widest possible audience. Infinix Note 11 Pro will be the first smartphone from the new generation of this line, officially available for Russian users. The device will receive the latest MediaTek Helio G96 processor, a complete 33W fast charge, and a 64MP main lens.
The smartphone camera supports 2x optical and 30x hybrid zoom, which will allow users not only to take beautiful pictures up close but also to fully unleash their creativity, using the wide software and hardware capabilities of the smartphone sensor to select the perfect shot.
The smartphone will also support the proprietary technology Infinix ERT, which will expand the already impressive 8 GB of RAM up to 11 GB through the partial use of the permanent memory of the smartphone.
Details of these and other features of the new products, full specifications, and available versions of the models, as well as their retail prices, will be announced at a later date.