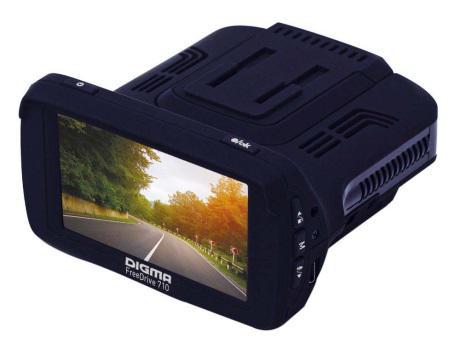 The video recorder with a radar detector Freedrive 710 from the manufacturer of digital technology and electronics DIGMA will become a reliable companion for any car enthusiast. The combined device will not only record everything that happens near the car in high quality but will also notify the driver in advance about approaching the cameras or the traffic police post. This will allow the motorist to avoid drawing up a protocol, a fine, and other troubles associated with violation of the speed limit.
At a fairly budgetary price, the DIGMA Freedrive 710 has all the important functions a driver needs. The device records video at a maximum Super HD resolution (2304 x 1296 pixels). This format is more than enough to make out everything that may be important when analyzing an incident during playback: from the faces of motorists and eyewitnesses to traffic lights and license plates. The wide viewing angle of the camera (170 °) provides a good "horizon" of the DVR - it will not miss a single detail from what is happening around.
The OmniVision OV4689 sensor, one of the best sensors for shooting at night, will allow you to capture clear shots of fast-moving subjects. Including at dusk. To improve the quality of shooting with changes in the level of illumination, for example, in tunnels, in the evening or at night, an active WDR filter is used in the DVR. It works in a wide dynamic range and allows you to get a high-quality picture, in which light and dark areas are equally well visible. On the video, it will be possible to recognize absolutely all objects, including those that are in the darkened zone. It will also be possible to view frames even if the video device was blinded by the headlights of an oncoming vehicle during operation.
The option of a radar detector operating in the "Highway", "City 1" or "City 2" modes will warn the driver about approaching speed cameras or traffic police posts along the route. Thanks to the built-in frequency filters, the device effectively cuts off false signals and notifies the motorist only about real radars using the inscription on the screen and an audible warning, the volume of which can be adjusted. Also in the memory of the DVR, there is a constantly updated database of tracking systems, which allows the driver to slow down in advance on a specific section of the road. The locations of fixed cameras and posts are displayed on a 2.7-inch LCD that can be used to view recorded video.
Thus, DIGMA Freedrive 710 serves as both a full-fledged video recorder and a radar detector. This gives the user two advantages at once. So, a combined DVR will take up much less space in the car than two separate devices, and will not interfere with the view. Also, this solution will save money on buying a separate gadget.