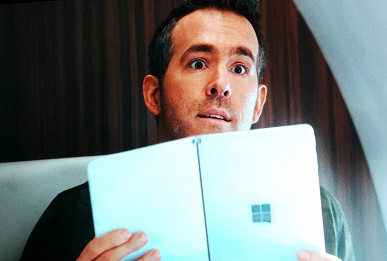 Microsoft's Surface Neo dual-screen gadget has been featured in Netflix's new action movie Red Notice, which stars Ryan Reynolds, Gal Gadot, and Dwayne "The Rock" Johnson.
The movie came out a few days ago, and eagle-eyed viewers quickly took notice of the device, which has yet to be released. The American tech giant announced the Surface Neo alongside the Surface Duo back in 2019. The latter was officially released, with rumors that the Surface Neo could be canceled. However, the appearance in the film may indicate that the gadget may still go on sale.
It is also worth noting that the shooting of the film "Red Notice" started around the time of the announcement, while it was delayed due to the pandemic. Perhaps the Surface Neo scenes were simply decided not to reshoot.
At the time of the announcement, it was announced that the device will receive an 11th generation Intel processor and two 9-inch screens, connected in the middle by a hinge and protected by Gorilla Glass. The hinge allows the displays to flip up 360 °. Each panel is 5.6mm thick and weighs 655g including screens.