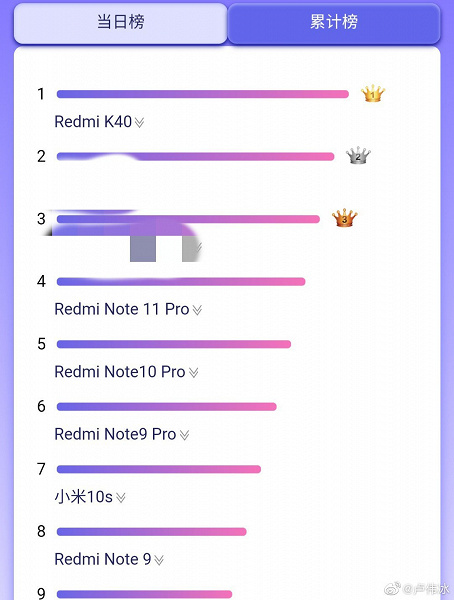 Lu Weibing, President of Xiaomi Group China and CEO of Redmi, posted a list of the best-selling smartphones on his Weibo page during the Double 11 event at Jingdong.
Smartphones Redmi and Xiaomi took six places in the top ten, while five places went to Redmi smartphones. The second place was taken by Redmi K40, which was released at the beginning of the year. The version of the Redmi K40 smartphone, equipped with 8 GB of RAM and 128 GB of flash memory, fell in price to $ 310. Xiaomi and Redmi management have repeatedly stated that the Redmi K40 has become a real bestseller and one of the best value for money phones this year.
The Redmi K40 has a Snapdragon 870 SoC, fast LPDDR5 and UFS 3.1 memory, and a Samsung AMOLED E4 panel with 120Hz refresh rate and FHD + resolution, which has been rated DisplayMate A +. In this line, the manufacturer has abandoned the outgoing camera and decided to release a smartphone with a record-breaking small opening for the front camera. The smartphone received support for Wi-Fi 6E, infrared port, stereo speakers with support for Dolby Atmos sound enhancement technology, dual-band GPS module, NFC, as well as IP53 dust and moisture protection.
The fourth place was taken by the brand new Redmi Note 11 Pro, which by one position bypassed the Redmi Note 10 Pro. They are followed by the Redmi Note 9 Pro. Lu Weibing added that the Redmi Note 9 also performed very well, taking eighth place. In the future, the Redmi Note 11 and Redmi Note 10 lines will remain on sale, and the Redmi Note 9 will be removed from the shelves, according to the new strategy.
The seventh-place was taken by the Xiaomi 10S, which is an improved and updated version of last year's flagship Xiaomi Mi 10 on a new platform, while it received a significantly improved sound quality thanks to Harman / Kardon stereo speakers.