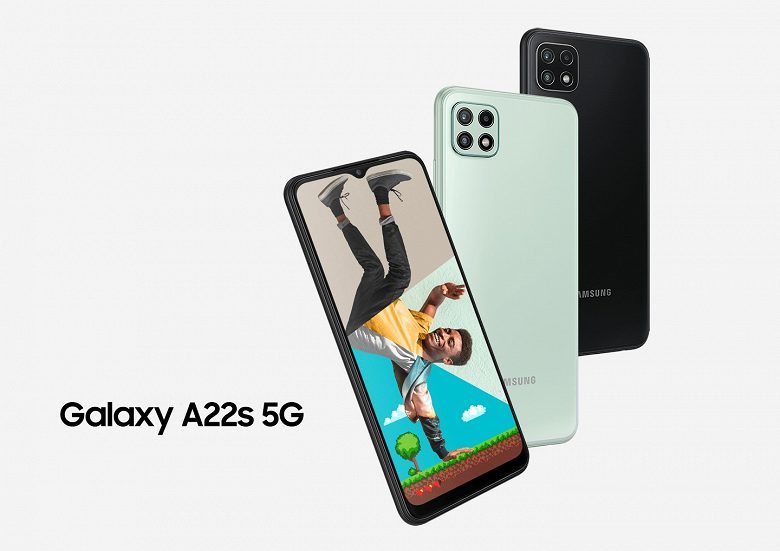 On the Russian website of the Korean company Samsung Electronics, a full description of the new smartphone, which has not yet been presented either in Russia or in the rest of the world, has appeared - Galaxy A22s 5G.
According to the description, it strongly resembles the Galaxy A22 5G model released in July. As a reminder, the Galaxy A22 is offered in two variations and the Galaxy A22 5G is very different from the Galaxy A22 4G. In Europe, Samsung mainly offers the Galaxy A22 5G, while the Galaxy A22 4G version is available in Russia.
So, the new model Galaxy A22s 5G, according to the description, is almost a complete twin of the Galaxy A22 5G. The only difference is support for a frame rate of 90 Hz in the Russian Galaxy A22s 5G versus 60 Hz in the European Galaxy A22 5G.
Perhaps in Russia, the Korean manufacturer decided to release the Galaxy A22 5G model under the name Galaxy A22s 5G, so as not to confuse consumers. Moreover, the address of the page, the title in the browser and other technical elements show the name of the Galaxy A22 5G, but the page itself indicates the Galaxy A22s 5G. It is impossible to say for sure which of the names is wrong. The recommended price of the device has not yet been indicated.
Among the characteristics of the Galaxy A22s 5G: 6.6-inch LCD screen with Full HD + resolution (1080 x 2408 pixels), with an image refresh rate of 90 Hz, 8-megapixel front camera, main triple camera (48 megapixels, 5 and 2 megapixels), The SoC is not named, but it is likely Dimensity 700, 4 GB of RAM, 128 GB of internal flash memory, a 5000 mAh battery, a side fingerprint scanner, NFC support and a proprietary One UI shell based on the Android 11 operating system.