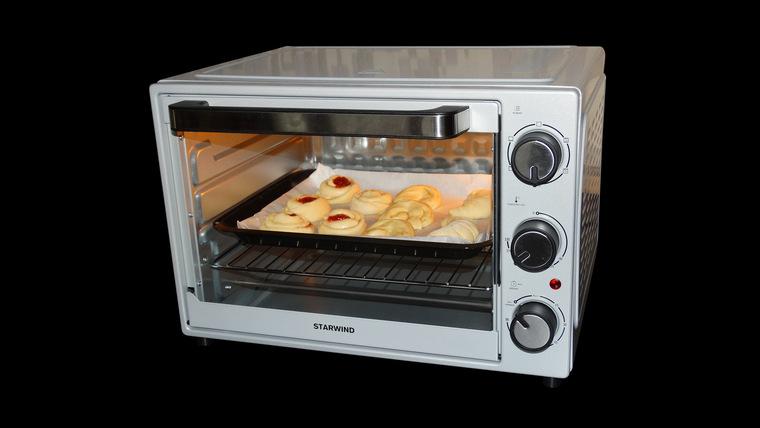 The Starwind SMO2004 mini oven is a miniature electric oven with the functionality of a full oven. Due to the compactness of the model, place the stove absolutely anywhere: in the kitchen at home, in the country, in a small studio, or in a dorm room. The oven can be placed on a table or other surface, replacing not only the functions of a full-fledged oven but also a microwave.
For example, by installing one Starwind SMO2004 mini-oven, space savings will be 0.19 m3 (taking into account the standard dimensions of the oven and microwave) without losing the functional component.
Intuitive controls will allow you not to spend a lot of time studying the instructions. On the front panel, there are convenient control knobs and a light indicator that indicates the device is turned on. It is also possible to select the desired cooking mode and temperature. Thanks to the timer up to 90 minutes, it is not necessary to wait for the dish to cook, you can go about your business, the oven will notify you when it is ready.
The Starwind SMO2004 mini-oven has 5 preset cooking modes, as well as a wide range of operating temperatures. In this case, the user can program additional cooking modes himself. A mini-oven is the best solution for a summer cottage and a small kitchen that is not equipped with an oven. Cook grilled chicken, potatoes, croissants, pies, rolls, and more. Easily cook several dishes at the same time by placing them on two levels in the oven. This model has a convection function, which allows you to achieve even roasting of food from all sides.
The doors of the Starwind SMO2004 mini-oven are equipped with durable tempered glass, which prevents heating of the outer surfaces due to its strength. Also inside the chamber, there is a light bulb for bright illumination, allowing you to observe the preparation of food.
Starwind mini ovens are much cheaper than conventional ovens with the same functionality, while not inferior in quality. In addition, the inner surface of Starwind ovens is coated with heat-resistant enamel, which is resistant to dirt and scorching. This guarantees not only a longer service life of the oven, but also high-quality use, and also saves time and effort in cleaning equipment from dirt after use.