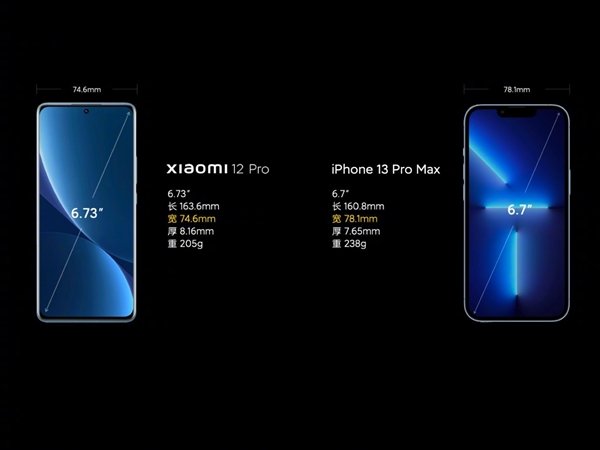 The head of Xiaomi, Lei Jun, today published a slide from the presentation, which he will deliver in a few hours during the official announcement of Xiaomi 12, Xiaomi 12 Pro and other today's new products. The picture shows the Xiaomi 12 Pro next to the iPhone 13 Pro Max.
As you can see, the screen of the Xiaomi 12 Pro is slightly larger (6.73 inches diagonally versus 6.7 inches for the iPhone), but the width of the body of the Xiaomi 12 Pro is 3.5 mm less, and the weight is 33 grams less. Lei Jun believes that due to this, the Xiaomi 12 Pro will be more comfortable in the hand.
Xiaomi believes that in technical terms, the Xiaomi 12 Pro is a competitor to the iPhone 13 Pro Max. The novelty of the Chinese company is attributed to the AMOLED Samsung E5 screen with a resolution of 2K with a frame rate of 120 Hz, SoC Snapdragon 8 Gen 1, a triple camera with 50-megapixel sensors, a 4600 mAh battery with support for 120 W fast charging.