Recently, Luo Yonghao added two pieces of information on recovery execution. The total amount of the execution target is more than 29.17 million yuan, and the execution court is the Beijing No. 1 Intermediate People's Court.
In response to this, @勝家friend's live broadcast room responded by saying that the two cases are corporate debts incurred by Hammer Technology during its mobile phone business, and the debts have been processed according to the predetermined payment plan. The purpose of the court's resumption of enforcement is to carry out the closing procedures, and similar situations will occur in the future.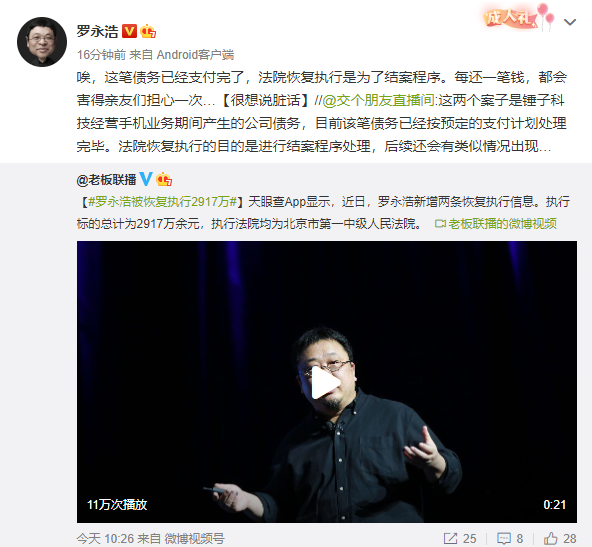 Luo Yonghao himself also responded that the debt had been paid, and the court resumed execution to close the case.
Luo Yonghao's Douyin account announced earlier this month that it was renamed "Make a Friend Live Room", and the avatar was also changed from Luo Yonghao's single photo to a group photo of the anchor. It was announced that for the company's more formalized development, from June 2, the account "Luo Yonghao" was officially upgraded to "Make Friends Live Room", which will continue to be operated by Beijing Make Friends Digital Technology Co., Ltd.
Previously, it was reported that Luo Yonghao would enter the AR industry after paying off the money. 36 Krypton reported that a source revealed that Luo Yonghao is currently in contact with VR / AR / MR related talents, and the new company is also in preparation, and it will still fall in Beijing. Hire a lot of talent.