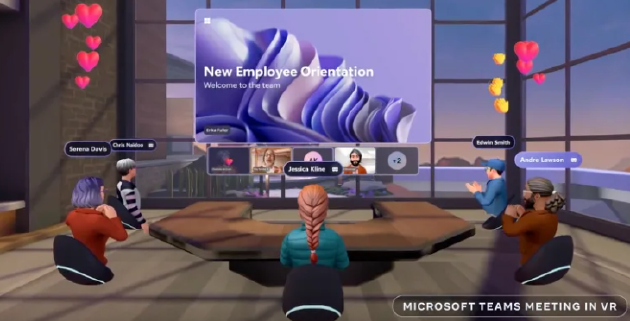 Meta and Microsoft reached new cooperation, it will integrate Microsoft Windows App, Teams, and other products with Meta Metaverse hardware. At the Connect conference, Microsoft CEO Satya Nadella confirmed that Teams will be integrated with Quest devices. Not only that, but Microsoft will also provide technology to allow Windows apps to stream to Meta headsets. The Xbox Cloud Gaming streaming game service will also come to Quest devices in the coming months.
Horizon Workrooms, a metaverse experience developed by Meta, will connect with Teams, and users can participate in Teams meetings directly through Workrooms.
As for the Windows level, Microsoft 365 will interface with Quest, and users can edit content through Word, Excel, PowerPoint, and Outlook. It's important to note that these apps aren't full-blown Microsoft apps designed for VR, they're just "Progressive Web Apps" at best.
Take another look at Xbox Cloud Gaming, which projects streaming games to 2D VR screens and supports existing Xbox consoles, and Nadella hints at more features to come in the future.
Microsoft has also been interested in VR/AR before, but it seems that interest has been fading a bit recently. Windows Mixed Reality, Microsoft's all-encompassing effort, didn't take off as expected. At the beginning of the year, it was reported that Microsoft had cut off three generations of HoloLens and instead cooperated with Samsung to develop new MR devices. Of course, this claim was refuted by Microsoft. We have reason to believe that Microsoft is more interested in Metaverse software.