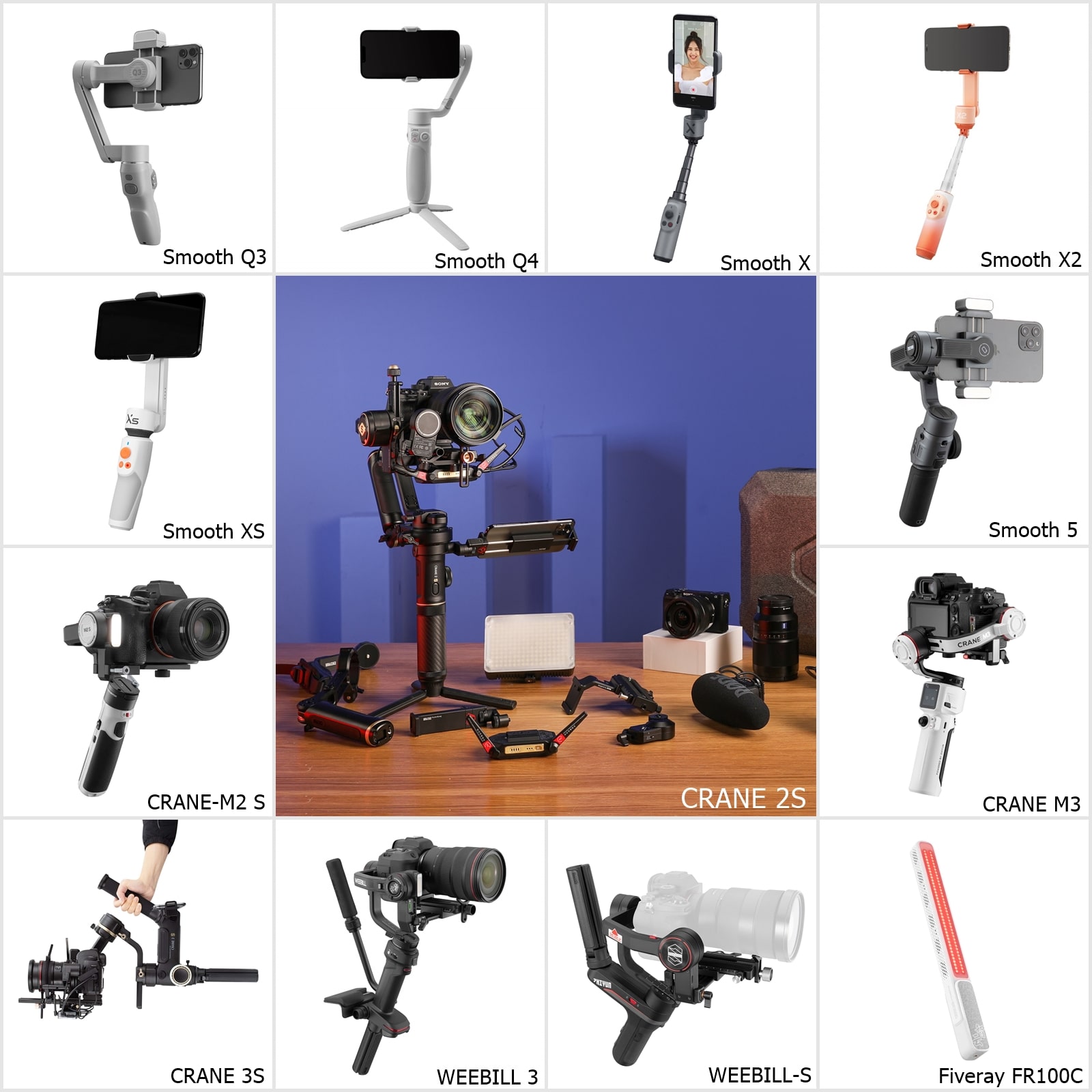 ZHIYUN, the world's leading professional gimbal brand for filmmakers with smartphones to studio cameras, is pleased to announce discounted prices for the Christmas/holiday period for its most popular smartphone gimbals, DSLR and mirrorless camera gimbals, and professional-grade video accessories. These incredible discounts will only be available between December 1st to December 31st at
Amazon ZHIYUN
and direct from the
ZHIYUN Store
.
WEEBILL 3: Simplicity Evolved, Creation Elevated
Now in its 3rd generation, the WEEBILL 3 has evolved and tuned its ergonomics with 390 carefully crafted parts that together reduce the carrying effort by 40%. This innovative all-in-one solution provides sound, light, and image stabilization together, providing a new bar for portable, powerful gimbals that makes even complex filmmaking endeavors effortless and simple. The WEEBILL 3 is now available for just USD $3,99 (11% off) with the Combo for USD $449 (15% off).
WEEBILL-S: Unleashing Possibilities for Professional Filmmakers
Despite its compact size, the WEEBILL-S easily handles mainstream mirrorless and DSLR camera & lens combos. Its neat, lightweight body and unique Sling mode allow the WEEBILL-S to offer an effortless shooting experience. Inside, its strong motors feature ZHIYUN's unique balancing algorithm. An intelligent ViaTouch 2.0 system as well as an ultra-low latency HD image transmission module, means the WEEBILL-S pushes the limits for boundless filmmaking.
The WEEBILL-S is now available for just USD$299 (32% off) and bundled with ZHIYUN's Image Transmission Pro Kit for USD$549 (21% off).
CRANE M3: For Ultra-portable Professional Handheld Filmmaking
The CRANE M3 is a portable, compact and professional camera gimbal. It provides an excellent grip and balance, with an ergonomic array of the control panel, buttons, wheels, and joystick for full control of the powerful motors that can carry different kinds of cameras and lenses in stable and smooth movements. The two-in-one universal quick-release plate makes camera changes during a shoot safe and efficient.
The CRANE M3 is now available for only USD$319 (14% off), the Combo options are now only USD$379 (16% off) and the Pro is just USD$399 (27% off).
SMOOTH 5: Ideal Gimbal for Smartphones
A film like a pro with the latest ZHIYUN Smooth 5. It makes cinematic smartphone filmmaking possible with its 3-axis design that allows movement through all angles to be amazingly smooth, even at the extremes. Its carefully considered ergonomic controls, high-performance motor, professional anti-shake system, and magnetic twin-fill lights empower new creative opportunities.
The Smooth 5 is now available for USD$139 (18% off), while the Combo option is reduced to just USD$189 (14% off).
Smooth Q3
Smooth Q4
Smooth X
Smooth XS
Smooth X2
Smooth 5
CRANE-M2 S
CRANE M3
CRANE 2S
CRANE 3S
Standard

: Now 539USD (27% off, original price 739USD)
PRO: Now 799USD (30% off, original price 1149USD)
WEEBILL 3
Standard

: Now 399USD (11% off, original price 449USD)

COMBO

: Now 449USD (15% off, original price 529USD)