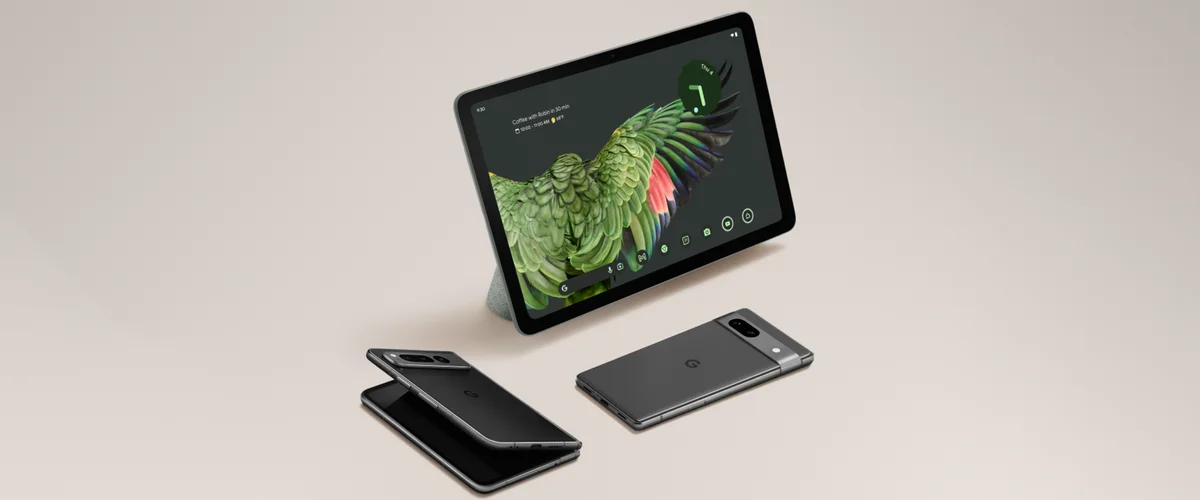 In a highly anticipated announcement, Google has introduced its latest lineup of Pixel devices, featuring innovative technology and enhanced capabilities. With the unveiling of the Pixel Fold, Pixel Tablet, and Pixel 7a, Google aims to extend the reach of its popular Pixel family, providing users with more options to experience the unparalleled helpfulness that the brand is renowned for.
Since its inception, the Pixel series has seamlessly integrated groundbreaking artificial intelligence (AI) advancements from Google into sleek, handheld devices. By combining the on-device intelligence of Google Tensor with the power of Google's cloud-based AI and the latest Android innovations, the Pixel devices offer a truly personalized AI experience. These technological advancements allow the Pixel to adapt to individual needs, anticipate user preferences, and provide time-saving features that enhance productivity. Notable examples of this Personal AI integration include the Pixel Camera, Pixel Speech, and Pixel Call Assist.
With the introduction of the new Pixel devices, Google has successfully translated years of research and innovation into tangible products that embody the cutting edge of technology. Let's take a closer look at each of these devices and explore their unique features.
Pixel 7a: The Latest A-Series Phone
Google's Pixel 7a is the latest addition to the A-series, offering users an array of premium features typically found on high-end devices. The phone boasts an impressive 8GB RAM, ensuring smooth multitasking capabilities, along with a Face Unlock feature for enhanced security. Additionally, the Pixel 7a introduces wireless charging for the first time in the A-series lineup. Priced at $599 CAD, the Pixel 7a is now available for purchase, catering to those seeking affordability without compromising on performance.
Pixel Fold: Google's First Foldable Phone
The Pixel Fold marks Google's entry into the foldable phone market. Emphasizing the Pixel brand's reputation for exceptional camera capabilities, the Pixel Fold features the best camera on a foldable phone to date. The device unfolds to reveal a generous 7.6-inch screen, offering a truly immersive viewing experience. When folded, the Pixel Fold resembles a traditional smartphone silhouette, making it familiar and convenient for everyday use. Priced at $1,799 USD, the Pixel Fold will initially be available in select countries, excluding Canada.
Pixel Tablet: Uniting Entertainment and Smart Home Integration
Designed to be both a portable entertainment hub and a helpful smart home device, the Pixel Tablet provides users with an exceptional viewing experience. Boasting an 11-inch display within a sleek aluminum enclosure, the tablet incorporates a unique nano-ceramic coating for a premium textured feel. Users can pre-order the Pixel Tablet starting today, bundled with a Charging Speaker Dock that keeps the device charged and ready for use. Priced at $699 CAD, this comprehensive package offers a seamless transition from entertainment to hands-free smart home control.
Expanding the Pixel Family
With the addition of these new devices, Google continues to expand its Pixel family, creating a dynamic hardware portfolio that caters to a wide range of user preferences. From smartphones and smartwatches to earbuds, tablets, and now foldables, Google's Pixel devices offer an extensive array of choices for users seeking a cohesive and helpful ecosystem. This expanded range ensures that the unmatched helpfulness associated with the Pixel brand is accessible whenever and wherever it is needed.
As technology continues to evolve, Google remains at the forefront of innovation, leveraging AI breakthroughs and integrating them seamlessly into everyday devices. The introduction of the Pixel Fold, Pixel Tablet, and Pixel 7a further solidifies Google's commitment